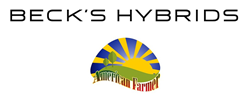 Atlanta, IN (PRWEB) May 16, 2014
Beck's announced today that they will be featured in an upcoming episode of American Farmer, airing later this year on RFD-TV.
In this episode, American Farmer will teach viewers about Beck's, the largest family-owned, retail seed company in the United States. The segment will educate audiences on how Beck's strives to provide all customers with the tools needed to succeed on their farm.
"For 77 years, not only has Beck's remained family-owned, but we have stayed true to our mission by providing customers with the best in seed quality, field performance and service," said Ryan Parkin. "We're excited to showcase the Beck's culture and our commitment to the success of the American farmer."
Over the last few years, Beck's has experienced significant growth across their marketing area with new sales territories, new facility locations, and new employees. For the past 20 years, Beck's has seen a growth rate of 20 percent each year. With one of the largest seed testing and breeding programs in the Eastern Corn Belt, Beck's brings farmers an increasing number of new, high performing products specifically designed to perform on their farms.
"Beck's believes in maintaining relationships with integrity and honesty," said Charlie Cowan, producer for American Farmer. "Their dependability and ability to provide customers with some of the best genetic and trait technologies available makes them a key player in the industry, and we can't wait to feature them on our show."
About Beck's Hybrids:
Beck's is a family-owned and operated seed company that serves farmers in Indiana, Illinois, Ohio, Michigan, Kentucky, Tennessee, Iowa and Missouri. According to a recent media survey, Beck's ranks as the sixth largest seed company in the United States and the only one in the top six that is family-owned, making Beck's the largest retail, family-owned seed company in the United States. For more information, visit http://www.beckshybrids.com. Follow Beck's on Twitter at http://www.twitter.com/BecksHybrids, like Beck's on Facebook at http://www.facebook.com/BecksHybrids, or visit the Beck's Blog at http://www.beckshybrids.com/blog.
About American Farmer:
American Farmer is a breakthrough program on a mission to showcase the latest advancements in agriculture and farming. From seed to harvest, livestock and more, our producers have traveled the country covering the people, places and issues impacting all areas of farm country.
American Farmer airs Tuesdays at 8:30am ET on RFD-TV as well as Tuesdays at 12:30pm and Saturdays at 1:30pm ET on FamilyNet.
For more information on American Farmer visit: http://www.AmericanFarmerTV.com or call Charlie Cowan, Senior Producer, at (866) 496-4065 x 875.