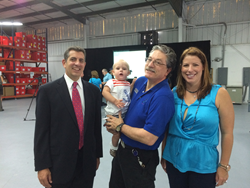 "It's exciting to be in a room of human innovation," said Rep. Jolly. "The federal government doesn't invent things—the private sector does. And we know that companies like ALPS contribute greatly to the quality of life of our young wounded veterans."
St. Petersburg, Florida (PRWEB) May 15, 2014
The innovative high-tech manufacturing company ALPS South is kickstarting its research and development efforts after winning a precedent-setting $15.5 million judgment in a patent infringement case (#8:08-cv-1893-T-35MAP) in the United States District Court Middle District of Florida Tampa Division in early March. The St. Petersburg company is an international industry leader in designing and manufacturing prosthetic liners and has now developed a number of other creative products, including a device inserted into a prosthesis that communicates through a smart-phone app to create a better fit and an interface that picks up neural signals to help amputees intuitively control their prostheses.
The company demonstrated its impressive array of products on Tues., May 13, at its St. Pete headquarters. Newly elected US Congressman David Jolly, who represents the district where ALPS is based, and Florida State Rep. Kathleen Peters both attended the demonstration. Also in attendance were ALPS CEO Dr. Aldo Laghi, ALPS Vice President of Marketing Kevin McLoone, Navy veteran and ALPS consultant Jim McElhiney and Shumaker, Loop & Kendrick, LLP (SLK) attorney Ron Christaldi, who guided the company's defense in its decade-long patent infringement fight.
"It's exciting to be in a room of human innovation," said Rep. Jolly. "The federal government doesn't invent things—the private sector does. And we know that companies like ALPS contribute greatly to the quality of life of our young wounded veterans."
ALPS employees showed visitors the stunning range of products ALPS designs and manufactures. Those products include WintersGel, the liner used to help the famous injured dolphin Winter swim with a prosthetic tail; a one-of-a-kind semi-automatic revolver; an oxygen-injected engine that dramatically increases a car's horsepower; a prosthetic foot; improved sleep apnea masks; and a silicone mask that helps patients recover more quickly after facial surgery.
"I look at this company as the American dream," said state Rep. Peters. "I am so proud of this company and what they are doing."
Laghi, an Italian immigrant and the founder of ALPS, moved his company to St. Petersburg, Florida, in 1994. ALPS quickly found success with its prosthetic liners, the gel suspension and cushioning interface that rests between a prosthesis and the residual limb. Today, the company employs 120 workers and operates two St. Petersburg manufacturing facilities.
The company also has warehouses and sales offices in Italy, Canada, the Czech Republic, China and Ukraine, and manufactures products for local markets in China and Ukraine. Overall, the company does business in nearly 50 countries; in each of those countries, ALPS sits at or near the top of market share in its industry.
The company is also a recognized leader in the biotech industry, which has become exponentially more important to Florida's economy in recent years. Last year, the industry publication "Florida's BioPulse" found that the number of Florida biotech companies had grown by 60 percent in the previous five years, with 219 companies now in business.
But in late 2004, a competitor targeted ALPS, accusing the company of patent infringement. Knowing the allegations were baseless, Laghi decided not to settle and chose to fight to protect the company he and his employees had built.
"We knew we had properly respected other companies' patents," said Laghi, who personally holds more than 50 patents. "Our philosophy was to plant our feet in the right place and stand firm."
During the long fight, ALPS was forced to halt many of its research and development programs, but since the judgment the company has hired 20 new employees and is redoubling its R&D efforts. ALPS is vertically integrated, knitting its own fabrics, mixing its own polymers and machining its own metal.
"This company and its founder have integrity, courage and fortitude," said Shumaker, Loop & Kendrick attorney and General Counsel for ALPS. "They saw the lawsuit as a frivolous attempt to put the company out of business and asked me to defend its integrity and to enforce its own intellectual property. The outcome is a credit to the American justice system, which is the best in the world."
The ALPS South headquarters is located at 2895 42nd Ave. N., St. Petersburg, Fla. For more information, call 800-574-5426 or visit easyliner.com.
Shumaker, Loop & Kendrick is a full-service business law firm with more than 225 lawyers, 55 paralegals and 475 employees in five offices: Toledo and Columbus, Ohio; Tampa and Sarasota, Florida; and Charlotte, North Carolina. In each of its markets, Shumaker is the premier provider of quality legal services to individuals, small businesses, health care providers, nonprofits and Fortune 500 and international corporations. For more information, call 813-229-7600 or visit slk-law.com.