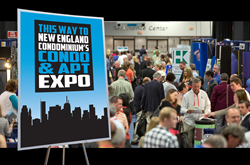 Boston, MA (PRWEB) May 15, 2014
Need help with a landscaping issue or a pressing legal problem? The New England Condo & Apt. Expo has the answers you need. At the Condo & Apt. Expo on Tuesday, May 20th from 10 a.m. to 4:30 p.m., the exhibition hall of the Seaport World Trade Center in Boston will be filled with more than 150 exhibitors covering every aspect of condominium and apartment management and maintenance. The Expo is the ideal place to meet with service providers from accountants, attorneys, landscapers, managers, waterproofers and more.
And don't forget—registration and admission to the Expo, including all seminars and advice booths, is free. Bring your questions, and plan to go home with a wealth of answers from experts in every area of condominium and apartment living.
The New England Condo & Apt. Expo offers board members, trustees, apartment building owners and property managers plenty of time to learn about new products and services, attend any of a half-dozen seminars and an opportunity to stop by the free advice booths to get questions answered by leading attorneys and other professionals
Seminars will be presented on topics such as amending your bylaws to the region's super lien laws to discussions on pot, pets and pest control.
And board members and trustees can enter to win $2,500 for their association's reserve fund just by attending. Only board members and trustees qualify and attendance at the show is mandatory to win. Winners will be drawn at random after registration has closed. For complete details visit ne-expo.com/conditions.
Mark your calendar now: Tuesday, May 20, 2014 at the Seaport World Trade Center in Boston. For more information and to register go to ne-expo.com.