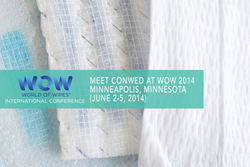 Minneapolis, MN (PRWEB) May 15, 2014
Conwed, the leading plastic netting manufacturer in the world, will share its reinforcement and lamination capabilities at WOW 2014 – World of Wipes International Conference, organized by the Association of the Nonwoven Fabrics Industry (INDA) in Minneapolis, Minnesota (June 2-5, 2014).
The industrial and consumer wipes industry is one of the fastest growing markets in the world. To enhance and differentiate their products, manufacturers are increasingly turning to Conwed for netting designs and configurations that can help them achieve their desired product performance.
"Our reinforcement and lamination capabilities help customers create customized solutions to achieve their specific product requirements," says Mary Liz Cahill, Business Development Manager at Conwed. "Our Thermanet® product line has adhesive properties that allow the netting to bond with a diverse range of materials when it is processed through thermal lamination. It provides lightweight and high-strength properties that are ideal for consumer and industrial wipes."
Thermanet® is a heat-activated netting with adhesive properties on one or both sides of the net configuration. It is a square netting construction and Conwed has the ability to build netting with A/B, A/B/A, and A/B/C layer combinations. The heat-activated adhesive makes it possible to laminate multiple substrates together to create a single composite structure. Thermanet® can be laminated to various substrates including aluminum, tissue, paper, nonwoven and film. The integral joints provide strength and dimensional stability to the composite. In addition, the joints create a consistent web for a cleaner and smoother manufacturing process.
Conwed netting can also be incorporated using other types of lamination and bonding processes such as extrusion coating/lamination, wet and dry adhesive lamination and ultrasonic welding. Furthermore, nonwoven manufacturers can incorporate netting during the web formation phase to subsequently bond it through chemical, thermal or bonding processes.
For more detailed information, visit the section Plastic Netting 101 at http://www.conwedplastics.com.
ABOUT CONWED
Conwed is the leading plastic netting manufacturer in the world. Conwed manufactures extruded, oriented and knitted netting with unique customization capabilities. Headquartered in Minneapolis, Minnesota, Conwed has five manufacturing locations on two continents and a global distribution network.