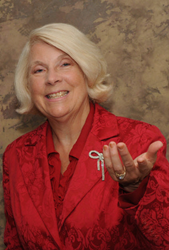 Cherish key customers.
Daytona Beach, FL (PRWEB) May 21, 2014
The book "Aesop's Keys to Profitable Marketing." dramatizes Aesop's stories, relates his wisdom to marketing, and describes how to get results.
"Do you want to generate more profits?" asks Dr. Kenneth Bernhardt, Past President of the American Marketing Association. "Dr. Kruger lays out easy-to-follow ways to increase your profits."
Some profitable strategies are to focus on quality, compete on strength, target key prospects, and reward the best. A universal law predicts the results of each strategy. Business leaders learn exactly how to spark the profits of their business.
Its first four chapters help business leaders clarify the mission, specialty, suppliers, and target market of a business. The next four chapters coach them to decide about its products and services and how to price, distribute, and promote them. The final chapters advise business leaders about prospecting, customer service, budgeting, and taking action.
These twelve key marketing decisions encompass the components of a strategic marketing plan. Upon completing the book, business leaders have a customized plan for profiting from the 80/20 rule.
Richard Koch, author of the million copy bestseller, "The 80/20 Principle," confirms, "Aesop's Keys to Profitable Marketing is an intriguing fusion of Aesop's insight and Pareto's realism that can truly benefit today's business leaders."
"Betsy has laid out an easy-to-use process for growing top customers in any business," states Robert Iocco, CEO of TrustPoint Insurance.
For example, the fourth chapter opens with a vignette. "In 1969, the American Machine and Foundry (AMF) bought Harley-Davidson and decided to compete for customers with cheap Japanese motorcycles. In its greed for more customers, AMF reduced Harley's quality, tarnished its reputation, and slid toward bankruptcy."
"Twelve years later, Willie G. Davidson saved Harley-Davidson from bankruptcy and began delighting its most profitable customers. As a result, Harley restored its legendary reputation, attracted highly profitable new customers, and regained its profitability."
This vignette is similar to an Aesop fable. "A Greek god rewards a worshiper with a goose. The next morning he discovers the goose laid a golden egg! Day after day he finds another golden egg."
"'Why must I wait for wealth to come in driblets? The inside of the goose must be solid gold!' Hastily, he slaughters the goose and opens up its belly. To his horror, all he finds is blood and guts. 'Woe is me. I've killed the goose that laid golden eggs.'"
"Aesop says, 'In their hunger for wealth, greedy people destroy what they already value.'"
Chapter three explains why I was a goose. "A company hired me to sell marketing research projects. My prior client at Caremark International planned to evaluate employee satisfaction with its management of prescription benefits for employers."
"The owner stated, 'We have conducted many customer satisfaction studies for banks.'"
"I explained, 'Since I have conducted several of your marketing research projects, I can easily conduct employee satisfaction studies for you.'"
"The project manager asked how long I had worked for the owner. 'Only two weeks.'"
"'The owner better watch out. In another year, you'll be the owner.'"
"Caremark contracted for annual employee evaluations of its services and soon I had sold some other highly profitable research projects. But instead of paying me $78,000 in sales commissions, the owner fired me. When my clients learned this, they cancelled their projects. Did the owner realize that he killed a goose that laid golden eggs?"
Dr. Kruger's mission is to spark profits, one business at a time. Her marketing consultancy, Strategic Power, earned an A+ rating with the Better Business Bureau and is certified by WBE and WOBE as a women-owned business. Her message has resonates with businesses, associations, and civic groups.
Dr. Kruger has coached 2000+ startups to succeed and provided marketing research to ADM, AstraZeneca, Bombardier, CVS Caremark, Dow, Harley-Davidson, Sears, and Volusia County. She is a popular guest on syndicated radio shows. For discounts for bulk purchase or to book a speech, please contact Brian Jud.