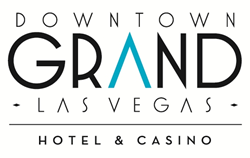 "Street Dice is a game like none other in this city, while Downtown Grand is about turning the typical Las Vegas casino experience upside-down," explains Schorr
Las Vegas, NV (PRWEB) May 22, 2014
A brand-new twist on an age-old classic arrives at Downtown Grand Hotel & Casino this month: Street Dice. This craps-style game is the brainchild of Downtown Grand CEO Seth Schorr, who envisioned a lively, crowd-pleasing outdoor gaming experience reminiscent of the back-alley dice games that flourished in urban centers during the Mob's heyday. Inspired by the Downtown Grand's proximity to The Mob Museum, the National Museum of Organized Crime and Law Enforcement, Street Dice is ONLY available at Downtown Grand.
Played outdoors on a custom-designed table fronting Third Street and the Downtown3rd dining and community gathering space, Street Dice is an exciting, easy-to-learn game that will beckon passersby to try their luck. It's a quick version of a pass line bet in craps, in which a shooter rolls the dice once to set the point, and then must hit the point within three subsequent rolls of the dice to win. Skilled craps players and novice gamblers alike will get a thrill from the dynamic action involved in throwing the game's extra-large dice into a ground-level tub in an effort to match the point and collect their winnings. The ground-level tub and gritty, brick-and-mortar table graphics were designed to recall the setting of real back-alley craps games, when dice were thrown onto the pavement only to bounce off the brick wall of a building.
Additional game specifics:

Street Dice utilizes two dealers: the Base Dealer is responsible for paying and taking all wagers; the Shovel Dealer is responsible for recovery, delivery and protection of the dice.
During the set-the-point roll, seven pushes and 11 wins 1:1; two, three and 12 lose.
Players have the option to bet a brick bet prior to the start of a roll; four, six, eight and 10 rolled the hard way (dice showing two twos, two threes, two fours and two fives, respectively) within 3 rolls wins 25 to 1.
A hard-way winner not rolled within three rolls after a brick bet is placed loses.
This outdoor table game is scheduled to be available for play on Fridays and Saturdays, weather permitting.
Schorr worked to make Street Dice a reality with partner, Las Vegas attorney and table games inventor Ofir Ventura. Schorr and Ventura are longtime friends and business associates who collaborated by combining Schorr's vision in regard to the game's design and Ventura's intuition for developing the rules of the game. Together, Schorr and Ventura created a truly unique dice game that is fast paced, easy to learn and exciting to play.
"Street Dice is a game like none other in this city, while Downtown Grand is about turning the typical Las Vegas casino experience upside-down," explains Schorr. "While other casinos strive to make guests forget about what's happening outside their doors, we encourage our guests to get out and experience Downtown3rd, The Mob Museum and the wealth of other activities and attractions to be found in the downtown area. Street Dice was designed to complement The Mob Museum, specifically, and serves as a catalyst to bring our guests outdoors, into the unique environment that surrounds the hotel."
ABOUT DOWNTOWN GRAND LAS VEGAS HOTEL & CASINO
Downtown Grand Las Vegas Hotel & Casino is the anchor and crown jewel of Downtown3rd, the new metropolitan center of Las Vegas. The 18-story Casino Tower and 25-story Grand Tower feature 634 guest rooms ranging in size from 350 to more than 1,200 square feet with high-definition flat-screen televisions, presidential pillow-top mattresses and high-thread-count linens, setting a new standard for luxury, sophistication and style in downtown Las Vegas. The exterior design of Downtown Grand blends multiple storefronts with a brick and granite façade creating a series of inviting indoor/outdoor experiences. The "industrial chic" interior features the raw energy of a factory juxtaposed with ornate fixtures and canopies. Downtown Grand offers 25,000 square feet of gaming space with nearly 600 new slot machines, 30 table games and a fully featured sports book powered by William Hill. Downtown Grand boasts a variety of unique bars and restaurants providing a wide variety of cuisines and price points. PICNIC, an urban rooftop pool experience, is Downtown Grand's signature entertainment/dining venue encompassing more than 35,000 square feet and featuring an infinity pool, full restaurant and bar, private cabanas, a fire pit and a grass seating area. Downtown3rd is just steps away from the world-famous Fremont Street Experience and The Mob Museum, within walking distance of Fremont East Entertainment District, and less than one mile from the Las Vegas Premium Outlets and The Smith Center for the Performing Arts. Downtown Grand Las Vegas is owned by CIM Group and managed by DTG Manager Las Vegas, LLC. Fifth Street Gaming is the property's gaming license holder and casino operator. For more information, call (702) 719-5100 or go to http://www.DowntownGrand.com. Find on Facebook or Twitter @DowntownGrandLV.
ABOUT FIFTH STREET GAMING
Fifth Street Gaming (FSG) is a Las Vegas, Nevada-based casino management company led by CEO Seth Schorr. Founded by Schorr and his partner, Jeffrey Fine, Fifth Street Gaming is comprised of executives from Wynn Resorts, MGM International and the Golden Nugget Corporation. FSG has partnered with CIM Group to redevelop, reprogram, and reopen the former Lady Luck Hotel and Casino. Through affiliates, the principals of Fifth Street Gaming own and operate four Las Vegas gaming locations.
ABOUT CIM GROUP
CIM Group is a leading real estate and infrastructure investment firm that since 1994 has systematically and successfully invested in dynamic and densely populated communities throughout North America. CIM Group draws on its experienced team of real estate, investment and finance professionals to identify and pursue investment opportunities in three primary strategic categories: repositioning and development projects in established and emerging urban areas; well-positioned operating properties in transitional districts; and infrastructure. CIM manages three distinct portfolios, including opportunistic, stabilized and infrastructure funds, each of which are diversified by geography and type of property within that risk profile. Headquartered in Los Angeles, CIM maintains regional offices in New York, the San Francisco Bay Area and Bethesda, Maryland. For more information, please visit http://www.CIMGroup.com.