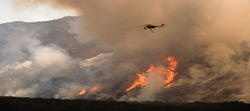 FEMA Contract Registration Streamlines the FEMA Registration Process. Get Started Now at http://www.femacontractregistration.com/services.html
San Diego, California (PRWEB) May 19, 2014
FEMA Contract Registration has streamlined the registration process for contractors that are interested in registering with FEMA in order to combat Poinsettia Fires in San Diego, California. In order to get registered with FEMA through the streamlined process visit http://www.femacontractregistration.com/services.html or call (866)310-4257 to get registered as a contractor.
The U.S. Department of Homeland Security's Federal Emergency Management Agency (FEMA) has authorized the use of federal funds to assist the state of California combat the Poinsettia Fires currently burning in Carlsbad, Calif. The President's Disaster Relief Fund provides funding for federal fire management grants made available by FEMA to assist in fighting fires that threaten to cause a major disaster. Eligible costs covered by the grant can include expenses for field camps; equipment use, repair and replacement; tools, materials and supplies; and mobilization and demobilization activities.
FEMA'S mission is to support our citizens and first responders to ensure that as a nation we work together to build, sustain, and improve our capability to prepare for, protect against, respond to, recover from, and mitigate all hazards. FEMA Contract Registration's goal is to streamline the registration process giving FEMA the contractors necessary to achieve there mission.
About FEMA Contract Registration
With more than 250 employees, FEMA Contract Registration features a 100-person ramp up team for new clients seeking government contracts. FEMA Contract Registration identifies opportunities available for companies in a designated industry in real-time, with segmentation by state, city, county, local, DLA, DOD, and other federal solicitations available. The team is leveraged to uncover opportunities in 30, 60 and 90 day time frames, as well as to facilitate relationships, and build awareness and visibility with government buyers. To talk to a specialist, call (866) 310-4257 or email info(at)femacontractregistration(dot)com, or visit http://www.femacontractregistration.com.