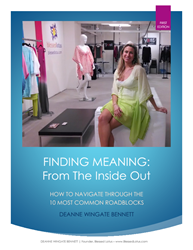 "Finding Meaning: From the Inside Out" captures the essence of how I have equipped myself to go down this road less traveled and live a life filled with meaning.
Charlotte, NC (PRWEB) May 19, 2014
May 20th is "Be a Millionaire Day." In anticipation of this holiday, Blessed Lotus founder, DeAnne Wingate Bennett, launches her debut eBook, "Finding Meaning: From the Inside Out." Her goal is to spread a message of finding meaning from the inside versus searching for self-worth externally through financial gain, power, approval, and/or others.
Wingate Bennett is a former 14 year Internet advertising evangelist turned nonprofit founder, social entrepreneur, miraculously expecting her first child in October, and now inspirational author.
Her career began on a quest for the world's view of success - money and power. She realized after she had it all that it wasn't "enough." Leaving her VP role in the corporate advertising world in NYC to take the courageous leap and seize her calling has touched hearts and inspired many.
This phase of Wingate Bennett's journey has given her the opportunity to speak with lots of folks and share her heart about faith and living true to herself. She received many of the same questions through her speaking engagements and blog, so the author decided to share her answers in an easy to follow format. The hope is that readers will be inspired to take a small step towards "going in" and leading a meaningful and purpose-filled life.
Wingate Bennett founded a 501(c)3 charitable organization, Rippled Purpose (http://www.RippledPurpose.com) in 2012, to help fight human trafficking and child labor by bringing education to impoverished children around the world. Sales from her women's apparel company, Blessed Lotus http://www.BlessedLotus.com, fund the mission. She is passionate about propelling the message that companies can drive profits and make the world a better place!
Wingate Bennett is available for interviews and appearances. For booking presentations, media appearances, interviews, and/or book-signings, please contact her.
"Finding Meaning: From the Inside Out" is available for purchase online: http://snk.to/xjEx.