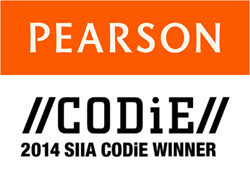 New York (PRWEB) May 15, 2014
EQUELLA from Pearson is the winner of a 2014 Software & Information Industry Association (SIIA) CODiE Award. Honored in the Best Campus Academic Management Solution Award category, EQUELLA is a digital repository that offers institutions a single system for managing, storing, and providing shared access to valuable teaching and learning, research, media and library content.
Established in 1986, the CODiE Awards honor outstanding achievement across the software, digital information and education technology industries. Award winners are selected by a combination of educator judges who carefully review each nomination to determine finalists and SIIA member-companies who vote for the winner.
"Colleges, universities, school districts and libraries have a wealth of valuable digital resources and EQUELLA helps them manage and access this content quickly and easily," said Peter Van Tienen, vice president, repository solutions and strategy, Pearson EQUELLA. "Providing the education community with solutions that meet real world challenges and improve learner outcomes is at the core of Pearson's mission. It is an honor to earn this prestigious award from the ed-tech industry."
EQUELLA is currently in use in a wide range of schools, districts, universities, community colleges, state systems and departments of education, government agencies, not-for-profit organizations and corporations worldwide. It has been deployed for copyright resource collections, research materials, management and exposure of materials through websites and portals, content authoring, workflow, institutional policy, document management and a variety of customized services.
By centralizing search and access of learning content into a single repository, EQUELLA provides a variety of benefits, including:

Access to internal and external content
Powerful search capabilities
Integration with multiple learning management systems
Anywhere, anytime access for multiple users
Course authoring and sharing made easy
Customization and alignment with the institutional/organizational brand
About Pearson
Pearson is the world's leading learning company, with 40,000 employees in more than 80 countries working to help people of all ages to make measurable progress in their lives through learning. For more information about Pearson, visit http://www.pearson.com.
Contact:
Stacy Skelly, stacy.skelly(at)pearson(dot)com, or (800) 745-8489