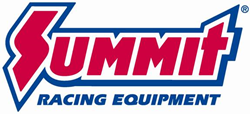 Tallmadge, OH (PRWEB) May 20, 2014
Gabriel invented the shock absorber back in 1907--and proceeded to invent the hydraulic shock, the adjustable hydraulic shock, and then the air-adjustable shock. Bolt a set of Gabriels from Summit Racing on a car or truck, and experience over 100 years of ride control expertise. Summit Racing carries a nice selection of Gabriel shocks including:
HIJACKERS AIR SHOCKS
It seemed like every hot rodder in the 1960s and '70s used a pair of HiJackers to hike up the back end of their car to fit big tires and get that drag race rake—ride quality be damned. But these air-adjustable shocks are actually designed for trucks, station wagons, and other vehicles that tow or haul. HiJackers inflate just like tires—simply air them up prior to towing to help reduce the risk of bottoming out. Once you're done, just let out a bit of air from the shocks to return to normal ride height. The HiJackers feature a big 1 3/16 inch piston bore, chrome plated piston rod, and deluxe wiper seals that provide optimum sealing.
ULTRA SHOCKS AND STRUTS
Precision-engineered with Gabriel's exclusive G-Force technology, Ultra shocks provide quicker handling response, longer life, and improved comfort and ride control. G-Force technology features:

High-pressure nitrogen gas charging
Infinitely variable damping adjusts automatically for road conditions
StableSteer valving improves tire contact with the road for safety and control
Leak-proof piston seal and rod guide eliminates oil bypass, providing a positive seal between the piston and working cylinder to minimizing friction
Orifice control disk with variable 9-stage valving for consistent oil flow
•  OEM style single-lip oil seal minimizes friction for optimal sealing

Sintered iron piston and super-finished chromed piston rod provides superior corrosion resistance and sealing
DOM tubing bodies reduce internal wear
PROGUARD SHOCKS
Gabriel ProGuard shocks are engineered for light trucks, vans, and SUVs. The shocks are nitrogen gas-charged and feature a large-diameter piston to deliver improved steering response, handling, and a smoother ride. Other features include:

Larger reservoir tube provides better cooling for longer shock life
Piston seal reduces oil bypass for maximum performance
Low friction oil seal for greater comfort and wear resistance
1 3/8 inch bore piston construction for greater durability
Super-finished chromed piston rod provides superior corrosion resistance and sealing
GUARDIAN SHOCKS
Looking for a set of good shocks for a daily driver that won't cost a mint? Gabriel Guardian shocks have 9-stage valving is tuned specifically for each application, and a high-pressure nitrogen gas charge resists compression helps keep the tires in contact with the road. The gas charge pressure also reduces fluid foaming that causes fade. That means a set of Guardians will improved handling and control with a good ride. Like all Gabriel shocks, the Guardian shocks feature super-finished chrome piston rods to inhibit corrosion and provide a more consistent wear surface, plus a leak-proof piston seals for extended life.
http://www.summitracing.com/search/brand/gabriel?GroupBy=ProductName&SortBy=Default&SortOrder=Default See all Gabriel shocks at summit racing. __title__ ]
Summit Racing Equipment
http://www.SummitRacing.com
1-800-230-3030