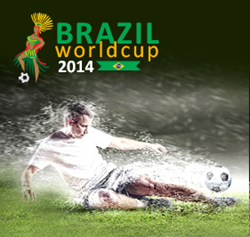 Book your cheap flights to Brazil now and be a part of the football fever this year in Brazil with your friends and family. Football World Cup 2014 will definitely be an event that you will cherish a lifetime.
London, UK (PRWEB UK) 17 May 2014
Football craze is in the air everywhere as FIFA 2014 draws nearer and nearer. Football lovers from around the world are more enthusiastic than ever before as best football teams and players pack their backs and finish their practice matches to show a marvelous game in Brazil this year from 12th June 2014 to 13 July 2014.
32 teams including England will be displaying the best of their games in the gorgeous Brazil in its 12 cities which include Rio de Janeiro, Sao Paulo, Salvador, Natal, Cuiaba and Brasilia.
Book cheap flights to Brazil now and be a part of the football fever this year in Brazil with friends and family. Support England and Team England by being amidst the ground to witness thrilling game of football. England is in group D and will be playing its starting matches with Uruguay, Costa Rica and Italy. Be there to support your team at Brazil Football World Cup 2014.
There are a limited number of tickets to all the matches and can be easily booked online through the official website of FIFA World Cup. The starting matches are relatively cheaper than the matches that come ahead in the World Cup. Opening match starts from $ 495 in the first category, $ 330 in second category and $ 220 in the third category. There are special discounts offered for the disabled. Reserve and pay for tickets online via credit cards. So hurry up and book tickets now. The most expensive ticket in the Individual Match Ticket Prices is for $ 990. Tickets get more expensive as more conditions are attached in other categories. All of this information is easily available online.
Cheap hotels in Brazil:
Fly to Brazil to attend the excitement in the Brazil Football World Cup 2014. Here are some of the cheap hotels in Brazil that will come handy for bookings.
Rio de Janeiro:
Hotel Flamengo Palace:
This is a wonderful three star facility that offers online booking and very affordable rates with amazing and astounding service quality. Here the guests will get a great value of money and special discounts on easy to manage online bookings.
Diamond Hotel:
This is another amazing hotel facility which is located very close to the city center and is a three star hotel facility and allows online bookings and payment. This is a great option to choose during FIFA World Cup 2014.
Apartamento Personal:
This is also a three star hotel facility and the best part is that it allows making bookings nowand payment later.
Sao Paulo:
San Raphael Hotel:
This is an amazing choice to make when you are in Brazil to attend the football world cup. Book a room here starting from $ 130.
Tulip Inn Interactive:
This is a three star hotel facility. Find a room starting for $ 145. It is a great and very economical option and this place is perfect to stay in Sao Paulo to enjoy exciting matches.
Brasilia:
Hotel El Pilar:
This hotel is an excellent choice in Brasilia with good quality rooms and excellent room service. Book a room here starting from $ 135 onwards.
St Paul Plaza Hotel:
This hotel facility is given amazing reviews by those that have used it. Get rooms here starting from the very affordable rate of $ 110.
Cheap holidays in Brazil if you are there for World Cup 2014:
Rio de Janeiro is one of the most famous cities in the country where tourists travel from around the world. When in Rio, do not forget to watch the wonderful holiday locales like Copacabana, Ipanema, Cristo Redentor, Sugar Loaf Mountain and Tijuca Forest.
Similarlytravel to Sao Paulo which is another mesmerizing city in Brazil and visit countless amazing destinations including Sao Paulo Art Museum, Hop Hari, Museum of Portuguese Language, Sao Paulo Zoo and MuseuPaulista.
Same is the case for all the other cities in which FIFA World Cup 2014 is being organized. All the cities and places are renovated to welcome he guests from around the world. Hotels, restaurants and other holiday attractions are all renovated and decorated so that the guests flying to Brazil can enjoy the utmost.
How to travel inside Brazil?
Travelling inside Brazil will not be a problem. To travel between cities use airlines which are offering special flights for world cup tourists. Tourists can also travel via busses along with other tourist and football lovers who will be travelling along to attend other matches.
To travel inter-city get maps that will give a great detail of information about buses that will be doing regular trips around the city especially during the match timings. Cab and Car Rental facilities will also be provided. Travelling in days of World Cup will not be a problem as special care has been taken for that concern by the authorities.