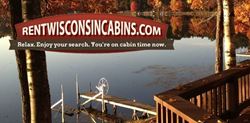 Relax. Enjoy your search. You're on cabin time now.
Waunakee, WI (PRWEB) May 20, 2014
The success RentWisconsinCabins.com leads to the rollout of RentMinnesotaCabins.com; RentMichiganCabins.com; and RentNewYorkCabins.com. The introduction of independent state specific websites focused on vacation rentals has never been done before in the travel and hospitality industry.
"The high number of signups tell us that many vacation rental owners have been waiting for a successful non-commission alternative to high priced, commission-forced websites," Mogensen said. Their unique state-specific approach is being quickly embraced by rental owners and vacationers. "Our percentage of the consumer search-market is growing because we've positioned our websites to appear on page one of search results for state-specific vacation rental search terms, alongside industry giants like VRBO," he said. That's where their similarities end however.
The advantages of the JM Creative Group's series of state-specific websites are apparent as soon as you arrive. The Narrow Your Search Tool includes criteria that pertains to each state and a large state map displays rental pins. The sites use Google Map technology which lets visitors quickly zoom to see vacation rentals in their favorite locations. Each property has a full details page.
"Once rental owners in other states see what we've done for the Wisconsin vacation rental industry, they are impressed," Mogensen said. The JM Creative Group now has 1,093 listings.
A big advantage for vacationers is what these sites don't list: "Many renters want the vacation experience only found in cabins, cottages, lodges and homes. So, that's what we limit our selection to" he said. Other websites indicate they list cabins and more; the 'more' often includes campgrounds, condo's, and apartments - which do not offer the same vacation experience.
There are several well-established national and international vacation rental directory websites available. "Our percentage of the vacation rental search-market is growing because we are able to dominate state-specific Internet searches for vacation rentals," Mogensen said.
Their onsite search and booking process is different from other directory websites. Seperate websites for each state results in a better search experience for vacationers and higher quality traffic for rental owners and managers. This unique approach allows JM Creative Group to create state specific search tools and interactive maps. And while most websites are forcing rental owners to book through their commission based websites, they insist renters inquire and book directly with the rental owners/managers to assure the lowest rate. No middleman and no commission means renters avoid paying higher rental rates because owners often raise rates to cover commission markup. "Booking directly with rental owners is best for both parties. Renters avoid double booking mixups & other all-to-common surpises, plus rental owners don't give up the right to take bookings directly," Mogensen said.
Rental owners pay a low annual flat fee to list on the websites. As part of its customer service, JM Creative Group initially sets up new listing(s)for no additional fee.
Collectively, the sites have surpassed: 1,790,000 Pageviews.
Mogensen grew up at a resort in northern Wisconsin in the 1970's and 80's. In 1996, he started JM Creative Group, an advertising and web design company in Madison, WI. Today, his passion and company is focused on growing a group of up to 25 state-specific websites devoted to the vacation rental industry. Mogensen and his staff continue to find innovative ways to promote individual properties. Recently they began linking to social websites of property owners.
Listing rates start at $95 per year. The JM Creative Group of websites are a win-win situation for owners and renters.