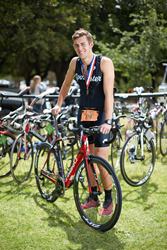 Santa Monica, CA (PRWEB) May 16, 2014
USC Triathlete Corey Norris competed in the Bonelli Triathlon Series in San Dimas, CA on a rented Spinlister bike from one of his all time favorite triathletes, Chris McCormack. Macca, a 12x Ironman Champion, 2x Ironman World Champion, and a 4x Sub 8-Hour Ironman, has recently endorsed Spinlister and listed his bikes for rent.
Norris was the first lucky soul to rent the S Works Tarmac SL4 that Macca uses while training in California. "I was unbelievably excited when I discovered that Macca listed his $12,000 bike on Spinlister and that I had the opportunity to rent it for race day. It was the lightest bike I've ever ridden and it felt incredible to race on the bike of one of my biggest idols," says Norris.
Norris placed 2nd for his age group and believes Macca's bike was a contributing factor to his success."Part of what keeps me going is giving back to the community that's given me so much. Giving Corey and others access to my bikes helps the sport of triathlon grow and removes the pain of shipping bikes," says McCormack.
Spinlister is encouraging triathletes to list their bikes at http://www.spinlister.com/list to make money and help fellow triathletes in need of a bike. All bikes are insured up to $5,000 against theft or damage. If you would like to rent the bike of an Ironman Champion or find bikes to rent in the city of an upcoming race, please visit http://www.spinlister.com.
About Spinlister:
Launched on April 1st 2012, Spinlister is a peer-to-peer global bike share that allows users to rent and list bicycles, skis, and snowboards from each other in over 50 countries worldwide. With their seamless web, iOS, and android apps, built-in security features, and a database of user reviews, Spinlister has won the trust of communities of cyclists, skiers, and snowboarders all over the globe.