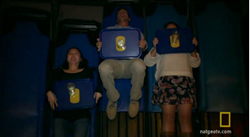 EverSTIK, the magical material that brought UM! Brands to its fame, is a simple double-sided adhesive that relies on suction technology.
Chino, CA (PRWEB) May 19, 2014
Up-and-coming small housewares company UM! Brands has made it to National Geographic!
Showdown of the Unbeatables is a new show on National Geographic that showcases promising products that might not be widely known or available to the public. Items featured on the show range from something as simple as a slingshot to something enormous with as much power as a tank. There are three segments on the show that features the 'unbeatable' product of two different companies. They are then faced against each other in a way that both products would be used to its full potential, and the prevailing product would be deemed the winner.
UM! Brands was recently among one of the contestants on the show, bringing along their wonderful sticky and reusable material that is applied on each backing of their colorful housewares: EverSTIK. EverSTIK, the magical material that brought UM! Brands to its fame, is a simple double-sided adhesive that relies on suction technology. On the surface of the material are nano-sized suction cups. When applied to smooth surfaces, the material sticks and forms a vacuum, ensuring a secure grip. Because EverSTIK is suction based, it can be easily removed and repositioned; the material is reusable and can be cleaned with a simple wash!
During the segment, the UM! Brands team and their EverSTIK sheet was put to the test. One of these tests included having a glass cup attached on top of a small EverSTIK sample (which was actually UM!'s own Stick UM!), which was then attached to a tray which was held by a member of the UM! Brands team. They would then ride various rides in an amusement park to see how well the cup stayed on, regardless of force acting on it. Through the tests, the EverSTIK triumphed and no glass was shattered.
For the actual showdown, EverSTIK went against the Coe Tree Shaker: a large, tractor-like equipment with the purpose of shaking down trees to harvest walnuts, almonds, and various others. Numerous EverSTIK sheets were placed down on a table and various items – from small cups to pumpkins and even a toilet! – were put on its surface. If the tree shaker got all the items off the sheet in two minutes, the tree shaker would win; if they did not, EverSTIK would. The tree shaker shook the table with strong force, with many of the items falling and breaking and, eventually, completely ruining the table.
In the end, however, EverSTIK prevailed: glass cups, a flask, a miniature glass frog, and a cell phone stayed in place! Who would have thought that nanosuction cups would defeat a full blown machine?
You can catch "Showdown of the Unbeatables" on the National Geographic Channel on Fridays at 10PM EST. For information and promotions about UM! Brands go to http://www.um-brands.com!