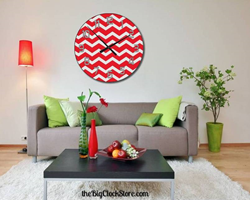 Phoenix, AZ (PRWEB) May 23, 2014
Large indoor wall clocks are nearly impossible to find. Even in the age of technology, businesses selling clocks bigger than eighteen inches are almost non-existent. Thebigclockstore.com was founded by Noelle Ray almost 11 years ago and has established itself as virtually the only over-sized clock dealer in the market, building clocks as large as five feet and offering all its products online.
Located in Mesa, Arizona, TheBigClockStore.com has established itself as the leader in completely personalized wall clocks. Noelle Ray, owner and founder of the store says that "[the company] started making twenty-four inch clocks (which we considered big), but customers kept asking for larger and larger clocks until we ended up with our largest clock of sixty inches."
Mrs. Ray started her business in the garage of her house in 2004. The original idea was just to provide a little bit of extra spending money through sales on ebay. Within a very short time, Mrs. Ray saw, which at that time, was a virtually undiscovered niche. Customers were delighted to add a personalized wall clock, one that had some sort of sentimental meaning, to their home décor. Over the next 11 years, thebigclockstore.com steadily grew with the extraordinary leadership and vision of Mrs. Ray. Having had no business experience in the past she has successfully guided the company to what it is today: the largest personalized clock manufacturer in the world. Functioning out of a large warehouse with CNC routers, 25 foot printers and a staff to assemble, the company has no problem making and shipping individual clocks or hundreds. The store specializes in personalized wall clocks and can personalize a clock to just about any way the customer wants. The bigclockstore.com builds clocks measuring 12", 18", 24", 30", 36", 48", and 60". They sell and ship clocks all around the world.
The Big Clock Store offers the unique option for customization, creating designs that include names, business logos, dates and even personal pictures. The clocks have become popular corporate gifts, with designs for clients that include Pepsi Bottling Company, Gorilla Glue, Abbott Laboratories, Six Flags Magic Mountain and Federal Express, and many more.
Thebigclockstore.com makes each clock to order, adding a distinct artistic touch to each design. Whether it is a anniversary clock, child's clock, sports, logo, rooster, contemporary, office or kitchen, thebigclockstore.com can match any decor. If a client is unsure what design they want, the store can create a new design to match the room in which the clock will be displayed.
With its unique, one of a kind clocks, thebigclockstore.com is setting a new standard for home décor. Each clock makes a great conversation piece and can meet any budget.
See our video and visit us at thebigclockstore.com.