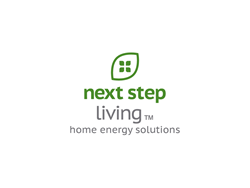 Boston, MA (PRWEB) May 15, 2014
May 15, 2014 – Boston, MA – Next Step Living™, New England's leading provider of whole-home energy solutions, today announced that it has been named to the TiE Silicon Valley's prestigious TiE50 "2014 Global Hot Technology Start-up Watch List." TiE is one of the most influential global networking organizations, working with successful entrepreneurs, venture capitalists and executives in more than 60 chapters in 17 countries.
"Being named one of the hottest tech start-ups by TiE is really an honor," said Geoff Chapin, founder and CEO of Next Step Living. "As we work to make home energy efficiency and renewable energy easily accessible and affordable to as many people as possible, we incorporate a blend of technology, data, deep subject-matter expertise and a commitment to great customer service."
The company has served almost 75,000 households with energy-efficiency services ranging from home energy evaluations and weatherization to the latest in heating and cooling solutions. Last week, Next Step Living expanded its solar-power offerings with community solar, a new approach to renewable energy that makes solar power available to apartment dwellers, renters and homeowners whose roofs aren't suitable for rooftop systems.
"In the six short years since inception, the TiE 50 program has become a global brand that attracts thousands of companies worldwide for this recognition," said Venktesh Shukla, president of TiE, Silicon Valley. "It is unique in terms of rigor of selection and the broad scope of companies that it reviews for this award and is one of TiE Silicon Valley's most successful programs."
Earlier this spring, Next Step Living ranked first as the fastest-growing private company in Massachusetts by the Boston Business Journal.
About Next Step Living
One of the fastest growing companies in the country, Next Step Living™ is the leading provider of whole-home energy solutions. Headquartered in Boston's Innovation District, Next Step Living makes it easy and affordable for people to live in homes with a low environmental impact. A one-stop service provider of informed advice, funding guidance and expert work, Next Step Living partners with more than 400 municipalities, civic organizations and leading corporations to deliver energy-efficient and environmentally friendly solutions for better living. Since 2008, Next Step Living has helped New England homeowners achieve almost $18 million in energy savings, which is expected to grow to more than $90 million in the next five years. Next Step Living makes our world better. Please visit NextStepLiving.com for more information.