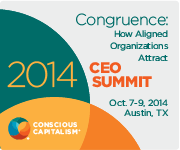 Portland, OR (PRWEB) June 10, 2014
Conscious Capitalism, Inc. CEO Doug Rauch announced that Paul Polman, CEO of Unilever and John Mackey, co-CEO of Whole Foods Market will join previously announced presenters Steve Ells, CEO of Chipotle and Kip Tindell, CEO of The Container Store as keynoters for the 8th Annual Conscious Capitalism CEO Summit October 7 – 9, 2014 at The Lost Pines Resort outside Austin, Texas.
"Paul Polman and Unilever are changing the way people think about big business," Rauch remarked, "as they demonstrate that business can serve society in profound ways, while continuing to grow and flourish financially. We are delighted that Paul will share his inspiring experience and insights with the Conscious Capitalism CEO community at this year's Summit."
Rauch continued, "John Mackey is unquestionably a prime activator of the Conscious Capitalism movement. We are thrilled that John has returned from his marathon travels over the past year, speaking to tens of thousands of people throughout the world about Conscious Capitalism, and will share his latest insights into the frontiers of Conscious Leadership."
The Conscious Capitalism CEO Summit is a 48-hour event – convening from lunch on Tuesday, October 7th through lunch on Thursday, October 9th. The program includes keynote presentations from inspiring CEOs and thought leaders, breakout practicums and experiential sessions in plenary, facilitated small group conversations, and rich opportunities to connect with a community of like-minded CEOs and presidents – of companies in a broad array of industries, from all around the world – who are committed to continually becoming more conscious leaders and to bringing the principles of Conscious Capitalism to life in their companies.
The Conscious Capitalism CEO Summit is open to CEOs and presidents of companies with annual operating revenues of at least $10 million. For more information about the 2014 Conscious Capitalism CEO Summit visit the Conscious Capitalism web site.
###
ABOUT CONSCIOUS CAPITALISM. Conscious Capitalism is a movement dedicated to elevating humanity through business.
Conscious Capitalism, Inc. is a non-profit organization dedicated to cultivating the theory and practice of Conscious Capitalism through events, presentations, publications and social media. We also support an emerging network of Conscious Capitalism Chapters, which serve as communities of inquiry for business leaders, entrepreneurs, coaches and consultants and others.