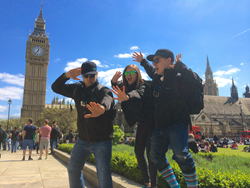 Guangzhou, China (PRWEB) May 15, 2014
The GooiNation Street Team world tour will be in Guangzhou and London tomorrow (Friday, May 16) and Hong Kong Saturday, MyGooi.com says.
"Nowadays, you 'Like' something if it's good, but if you Love something, it's gooi," said Chief Marketing Officer Jon Buscall.
The Team is exploring new territory in China and returning to London this weekend, bringing the taste of Gooi to more of its favorite cities. During the past month, it has brought its brand of "disruptive" networking to Amsterdam and the nearby Het Gooi region of the Netherlands, to Berlin, London and Paris, to Chennai and Bangalore, India, and to Omaha, Nebraska.
"We'll be making people smile and get in the Gooi spirit, handing out T-shirts, taking photos and recording video as we create #gooination," says Buscall. "The public in India, the United States, Europe and Asia has embraced the gooiness that we're continuing to share with our friends around the world."
The team – digital, fun, energetic, creative, disruptive, global – has received "a brilliant reaction on the streets so far with people from all walks of life stopping to say hello, grab a T-shirt and share a smile," he continues. "One great thing about gooi is that we're making people happy with the energy and openness we're bringing. We're building #gooi nations."
The Gooi team in China this weekend is led by Sebastian Benedikz. "There will be five of us in downtown Guangzhou on Friday and in Hong Kong Saturday, spreading the Gooi message of fun, creativity and international friendship," he says. "Because a GooiNation is digital, we'll be putting shots and clips on Facebook, instagram, Imgur and tumblr so everyone can share some #gooilove. We're really excited to meet the people of these great Chinese cities."
In England, "we're stoked to be taking gooi out to Londoners again," says Bernie J. Mitchell, host of the Mygooi-sponsored podcast Beyond the Business Card. "London, one of the most creative cities in the world, is finding out about the gooi message. We'll be out and about talking to people, handing out MyGooi gifts and looking for – and recording – reactions."
Says CEO Paul N. Greenwood, "The tour is 'disruptive' networking at its best; it gets people out of their comfort zone."
Other hashtags include #gooination, #gooilondon, #gooiCH and #gooiHK.
Mygooi is a new technology brand with headquarters in Des Moines, Iowa, and Chennai. The tour highlights the upcoming world debut of the Mygooi mobile device platform.
About Mygooi
Mygooi™ is a cloud based mobile technology company that creates a new social business network called the Gooi powered by Electronic Word of Mouth™. We put advanced mobile application technology at the fingertips of businesses and consumers to set free the power of innovation and enterprise around the world. Mygooi will always be free to download and use. Mygooi. An EWOM Company™.
See Mygooi updates and watch GooiNation grow on Facebook at https://www.facebook.com/mygooi.
Visit our new website and download the app upon release at http://www.mygooi.com.
Mygooi supports the Cystic Fibrosis Foundation. Check them out at http://www.cff.org.
Contacts:
China / Hong Kong:
Sebastian Benedikz
sebastian(at)jontusmedia(dot)com
tel: +81 90 9870 0384
London:
Bernie J. Mitchell
+44 (0) 777 204 2012
bernie(at)berniejmitchell(dot)com
Jon Buscall, CMO
+46768637285
jonb(at)mygooi(dot)com
Mark Perlman
Mygooi
312-315-0707 / Markperlman55(at)msn(dot)com
Richard Greb
Mygooi
847-651-1445 / rgreb(at)aol(dot)com