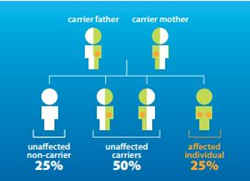 We recommend genetic testing for all people who plan to start a family, not just infertility patients, says Dr. Ilana Ressler, NYFS reproductive endocrinologist
New York City, NY (PRWEB) May 16, 2014
New York Fertility Services and Good Start Genetics will equip couples and individuals with invaluable family building information at a genetic screening day on Sunday, May 18. Preconception testing, or carrier testing, identifies gene alterations that occur on an individual's 22 non-sex chromosomes, called autosomes. Fertility treatment options can help protect the next generation from inheritable genetic disease that occurs when two carriers conceive a child.
Genetic screening takes place at New York Fertility Services at 16 E. 40th Street (between Fifth and Madison Avenues) on the 2nd floor with individuals having their blood drawn by NYFS nurses between 10 a.m. and 4 p.m. A private donor will provide for costs not covered by individual insurance plans. Results will be available in 2-3 weeks and all people will have a scheduled telephone consultation with Good Start geneticists to discuss their results.
"We recommend genetic testing for all people who plan to start a family, not just infertility patients," says Dr. Ilana Ressler, NYFS reproductive endocrinologist available that day for free mini consultations. "Advances in gene mapping allow for affordable, quick access to your genetic roadmap. When you have a 1 in 4 chance of having a baby with a devastating disease, it helps to know that there is hope for a bright future."
Who Needs Genetic Screening?
Responsible carrier screening identifies gene mutations that can lead to life-threatening diseases such as cystic fibrosis, Tay Sachs disease, fragile X and sickle cell anemia (these are not capitalized). Anyone with plans to get pregnant can benefit from genetic screening, but certain populations are at higher risk:

Ashkenazi Jewish ancestry
Caucasian (Non-Ashkenazi Jewish ancestry)
French Canadian and Cajun ancestry
Mediterranean ancestry
Asian ancestry
African American ancestry
In addition to Dr. Joel Batzofin and Dr. Ressler, Good Start Genetics representatives are scheduled to attend the genetic screening event to offer guidance and support. When both partners test positive for autosomal recessive genetic mutations, today's advanced reproductive technology becomes essential. One option for concerned potential parents includes an IVF laboratory technique to identify unaffected embryos prior to transfer in an IVF cycle. The New York Fertility Services team is experienced at preimplantation genetic diagnosis - PGD and preimplantation genetic screening - PGS.
To reserve an appointment at the May 18 genetic screening event at New York Fertility Services:
1. Call 212-679-2289
2. Email Teresa Randolph at trandolph(at)nyfsb(dot)com
3. RSVP at NYFS EventBrite
About New York Fertility Services
New York Fertility Services, was founded by Harvard-trained, Medical Director, Joel Batzofin, M.D. to provide comprehensive fertility services that meld advanced reproductive technologies with proven holistic, Eastern medicine therapies. Along with Ilana Ressler, M.D., and IVF lab director and embryologist John Scodras, Ph.D. the New York Fertility Services team is committed to providing compassionate, affordable and effective family-building treatments. Contact the Manhattan fertility clinic at 888-437-8963 or visit our website.