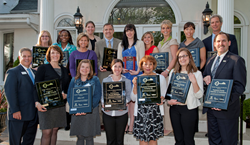 We believe it is important to keep your staff healthy and engaged. We challenge our employees each quarter with a different wellness campaign.
Frederick, MD (PRWEB) May 16, 2014
iHire was proud to be honored at the first annual Healthy Workplace Certification Awards Program held at Ceresville Mansion on May 1st to recognize Frederick County workplaces that are committed to improving employee health and well-being. iHire achieved the silver level of the Keys to a Healthy Frederick Certification Award. This year, 20 Frederick County workplaces were honored. The Healthy Workplace Certification Program (formally the Business Health Awards) is a joint venture between Frederick Regional Health System, Frederick County Health Department, and the Frederick County Chamber of Commerce. "We are thrilled to be recognized for our efforts and exceptional commitment to health and wellness in the workplace," said Vickie Krolak, iHire's Accounting/Office Manager. "We believe it is important to keep your staff healthy and engaged. We challenge our employees each quarter with a different wellness campaign. Recent challenges included getting employees to drink more water and get moving. We also provide a well-stocked break room with plenty of healthy snack choices such as yogurt, fruit, and healthy drink options. Employees really appreciate all we do!"
Criteria for Certification
The Healthy Workplace Certification Program follows the model developed by Healthy Howard, Inc. as it is based on a review of evidence-based worksite wellness activities and guidelines from existing efforts by the Centers for Disease Control and Prevention, the United States Office of Personnel Management, Partnership for Prevention, and Healthy People 2020. The certification includes minimum, moderate and comprehensive steps that comprise five worksite wellness components: Health Education, Supportive Social and Physical Environments, Integration of Worksite Wellness Program into Organizational Structure, Linkage with Related Programs and Screening Programs. Points are awarded for wellness initiatives in each of these areas. Based on these points certification is awarded at three levels – Bronze, Silver and Gold.
ABOUT
iHire, LLC
iHire offers a network of niche job boards dedicated to specific professions, enabling job seekers and employers to reach their employment goals by focusing their searches. iHire provides job seekers a single place to find jobs that are posted all over the internet, including places like small and large business websites, government databases, and industry associations in addition to other services such as job coaching, resume writing/formatting, and more. For employers, iHire provides straightforward hiring tools to help fill open positions quickly and cost effectively. iHire understands that successful recruiting isn't about a lot of resumes; it's about the right resumes. That's why iHire offers a niche focus with network reach, enabling employers a fast, affordable way to reach the right candidates. Visit http://www.ihire.com for more information.