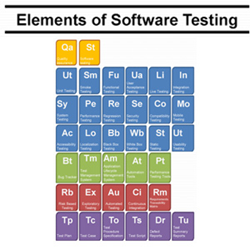 In such a rapidly-evolving field as software testing, it can be hard to keep up with the newest lingo or methodologies.
Fairfield, CT (PRWEB) May 16, 2014
QualiTest Group has released an infographic for public use which is aimed at helping to raise software testing literacy rates for individuals as well as businesses. Taking on a well-known template, the graphic plays off of the Periodic Table with which most people are familiar from their school days. However, in this reimagining, the categories change from things like "noble gasses" and types of metals to the facets of software testing: testing tools, documentation types, strategies, and more.
"The periodic table's layout has become iconic in content marketing," said Ami Sterling, Director of Marketing for QualiTest USA. "A quick Google search will present you with Periodic Tables of Sports Cars, Visualization Methods, Hip Hop, and anything else you can imagine – except software testing. We figured, if anyone is qualified to add this reference material to the testing lexicon, who better than the world's second largest software testing company?"
The Elements of Software Testing infographic is available to view and download for free on the QualiTest Group website. "Our hope is that companies will save the graphic to their devices, or print it out and hang it on their wall, so that they can have a handy cheat sheet when working with their testing teams," Sterling said. "We understand how difficult communicating with test engineers can be for managers or stakeholders, who may not be up to date on the latest technical jargon. In such a rapidly-evolving field as software testing, it can be hard even for testers to keep up with the newest lingo or methodologies."
Because of the ever-changing nature of their field, QualiTest knows that even they may not have the most efficient definitions or terminology. Therefore, they invite critique on the information contained in their infographic from software testing professionals in the field. On the thought process behind the crowdsourcing, Sterling explained that "QualiTest wants to know that we're representing our industry in the best way possible, so we want testers to take a look at reach out if they think we aren't communicating the needs of their profession properly." Visitors can leave feedback on the graphic's page on the QualiTest Group website via Google+ comments below the graphic itself.
QualiTest Group is the world's second largest software testing and quality assurance company. QualiTest offers quality assurance and software testing services, and is committed to the highest standards of quality in every project. We aim to improve software quality by providing superior QA solutions to customers and partners worldwide, as well as advancing international QA and testing methodologies.