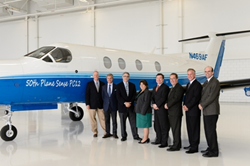 Portsmouth, New Hampshire (PRWEB) May 17, 2014
PlaneSense, Inc., one of the largest and safest fractional aircraft ownership companies in the world, took delivery of its 50th Pilatus PC-12 from the Switzerland-based manufacturer, Pilatus Aircraft Ltd., earlier today. Based in Portsmouth, N.H., the PlaneSense® program manages the largest civilian fleet of Pilatus PC-12 aircraft in the world, and has more experience with the PC-12 than any other aircraft management and maintenance team.
"Taking delivery of our 50th PC-12 will further expand the growth and evolution of our fractional aircraft program. The PlaneSense team remains committed to our core principles of cost effectiveness, top-level service, and operational excellence, and we continue to be highly successful in our planned progression," said George Antoniadis, CEO and President.
Crafted in Switzerland, the Pilatus PC-12 is a luxurious, highly versatile aircraft. The PlaneSense program fleet has a Pilatus BMW designed interior, and offers executive seating for six, with a more spacious cabin than other similarly sized jet aircraft. The PC-12 can land on runways as short as 2,000 feet, and has the capability to access unimproved grass, gravel, dirt, and coral runways.
According to Antoniadis, the PlaneSense program has achieved over 220,000 flight hours performed since its inception 18 years ago. The company intends to maintain a strategic increase of PC-12 acquisitions in the future.
For more information on fractional shares with the PlaneSense® program, visit PlaneSense, Inc. online at http://www.planesense.com.
About:
PlaneSense, Inc. is a fractional aircraft ownership program based out of Portsmouth, NH, that has been in operation since 1996. The PlaneSense® program offers optimal access to many airports, and fractional owner flexibility that suits any flying profile. The program embodies the sophistication and elegance of private aviation with compelling value through competitive pricing, exceptional service, and a luxurious, flexible aircraft. The fleet is currently comprised of over 30 Pilatus PC-12 aircraft.