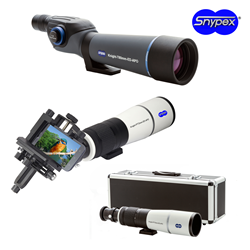 (PRWEB) May 20, 2014
After a successful release of the Knight ED binocular series, Snypex LLC, a sports optics company based on Long Island, New York, announces the release of two new products: the Snypex Knight T80mm ED-APO (20-60x80mm) Spotting Scope and the Snypex Knight PT72mm ED-APO Digiscope, both of which use precision-crafted ED (extra low dispersion) fluorite glass with a high degree of color correcting and image-lacking APO chromatic aberration (apochromatic lens), resulting in true to life images with startling clarity and color accuracy.
These new products are o-ring sealed and nitrogen-filled to provide waterproof and fogproof performance in all weather conditions. Bak4 prisms and fully multilayered, anti-reflective coatings are used on all lenses and prisms to provide unparalleled clarity and brightness, along with flare-free viewing.
The Snypex Knight spotting scope and digiscope allow users to capture images through a professional photographic lens, which produces an extremely bright, high quality image with exceptional light transmission. These rugged and durable scopes serve as a great alternative to binoculars; they are perfect for serious birdwatchers and wildlife observers, for hunting and target spotting, military personnel, law enforcement and tactical operations, astrophotography, and much more.
Sam Shaheen, founder and president of Snypex, LLC, explains, "Imagine being able to glimpse at creatures living in their natural habitats, or being able to capture the moon and stars right from your window! The possibilities are endless with these new and affordably priced scopes."
The Snypex Knight T80mm ED-APO (20-60x80) Spotting Scope has a straight body type that includes a zoom eyepiece offering a generous multi-step eye relief system of 25-16mm with 20x to 60x power. The spotting scope is both dual speed focusing and anti-reflective. It comes equipped with a 1:10 dual speed fine-focus and 80mm objective lens that is made with ED and APO. The body design is comfortable, functional, and can be rotated when mounted on a tripod. The Knight T80 also comes with a portable and convenient soft carry bag.
For more information, please visit http://www.snypex.com/products/knight-t80mm-ed-apo
The Snypex Knight PT72mm-ED APO is a multi-functional, dual speed, straight-angled photography digiscope. It features a reliable double apochromatic 72mm lens with extra low dispersion fluorite glass. The DSLR lens type focuser is versatile, allowing users to view up close, sharp, high quality images. A digiscope that can be used both day and night, the Snypex Knight PT72 is strong, durable, and made with an aluminum alloy. It comes with a portable and protective aluminum case.
For more information visit http://www.snypex.com/products/knight-pt72mm-ed-apo
The Snypex Knight ED Spotting Scope is now offered at $949.00 USD. The Snypex Knight Digiscope is priced at $999.00 USD. Both scopes are compatible with Nikon, Canon and Pentax SLR cameras, as well
as Samsung and iPhones. In order to take a professional, sharp photograph, simply attach the DSLR camera to the spotting scope for magnification of up to 1800mm.
These products are adaptor friendly. Snypex currently has two adaptor models available for these scopes, the SNY226-S Universal CellScope Adaptor with an eyepiece diameter of 43mm-65mm, and the SNY195-S Universal Digiscope Adapter with an eyepiece diameter of 28mm-45mm. The cellscope adaptor fits into the digiscope adaptor and comes with adjustable features to securely fit the size of any smart phone. The digiscope adaptor has an adjustable clamp plate and rotating knob to hold the digital camera firmly in place. It also comes with a platform fixing knob and fine tuning mechanism to ensure the camera lens is aligned properly with the scope eyepiece.
The Snypex spotting scope and digiscope are protected in durable housing to absorb shocks. These products are backed by a three year warranty.
Stay tuned for the forthcoming release of the new Snypex Profinder HD binocular series and the Focus Free Infinio series.
For more information, please visit http://www.snypex.com/blogs/press-release
Contact Us
http://www.snypex.com
Tel: 1-855-276-9739
Email: marketing(at)snypex(dot)com
Facebook: http://www.facebook.com/snypexoptics
Instagram: http://www.instagram.com/snypexoptics
Twitter: http://www.twitter.com/snypexllc
Pinterest: http://www.pinterest.com/snypex/