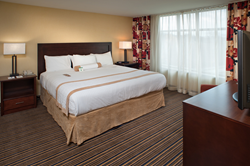 Official Decker's Creek Half Marathon Sponsor, Waterfront Place Hotel, is offering a special race rate.
Morgantown, WV (PRWEB) May 24, 2014
The Waterfront Place Hotel at the Morgantown Event Center looks forward to welcoming the 14th Decker's Creek Trail Half Marathon on June 7, 2014. This popular race is a mostly downhill course with an elevation drop of over 800 feet throughout the 13.1 race miles. The first 10.4 miles of the course are packed limestone, with the remaining 2.7 miles consisting of asphalt. The race concludes a half mile from the Waterfront Place Hotel, at the Hazel Ruby McQuain Riverfront Park, in Morgantown. The race starts at 8:30am, with the awards ceremony scheduled to begin at 12pm.
As an official hotel of the Decker's Creek Half Marathon, the Waterfront Place Hotel is offering a special rate of $109.00 per night, not including tax. Participants interested in taking advantage of this special offer should contact the hotel directly at 304-296-1700.
The full-service Waterfront Place Hotel in Morgantown proudly offers 205 well-appointed guest rooms and suites with an abundance of amenities. Free wireless internet, luxurious bedding, a beautiful indoor pool, spa services, state-of-the-art fitness center, room service, on-site dining, and a combined 50,000 square feet of hotel meeting and event space at the adjacent Morgantown Event Center are all part of the premier accommodations guests will find at this West Virginia hotel.
The Morgantown Event Center boasts 37,000 square feet of meeting, conference, convention, trade show, entertainment, and banquet space, with a professional event and culinary team on site to assist in the planning process. The hotel's short distance to downtown Morgantown, West Virginia University, and local attractions make it the perfect destination for business and leisure travelers alike. The Waterfront Place Hotel and Morgantown Event Center are proudly managed by Stonebridge Companies in Denver, Colorado.
Founded in 1991 by Navin C. Dimond, Stonebridge Companies is a privately owned, innovative hotel owner, operator and developer headquartered near Denver, Colorado. The company's current portfolio entails 50 hotels with over 7,000 rooms nationwide. This diverse portfolio includes select-service, extended-stay, mid-scale and full-service hotels in markets throughout the U.S. For detailed information, please visit the company website at http://www.SBCOS.com