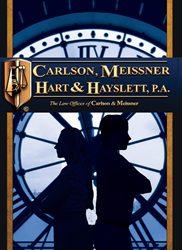 Floridians can expect this issue to return in future sessions, so it's always important to keep apprised of the most current laws.
Tampa Bay, FL (PRWEB) May 30, 2014
Attorney Jason L. Fox, with the prominent Tampa Bay law firm of Carlson, Meissner, Hart & Hayslett, P.A., provides insight on how the legislation's recent decision not to pursue alimony reform in the 2014 session will impact divorces in the coming year, according to a March 6 article by Kathleen McGrory which appeared in the Tampa Bay Times, "There will be no Florida alimony reform bill in 2014".
On May 1, 2013, Governor Rick Scott vetoed Senate Bill 718, a divisive alimony reform bill. The bill would have made Florida divorce law more favorable to those responsible for paying alimony by eliminating permanent alimony and putting caps on payments based on the duration of the marriage and both parties' salaries. According to the March 6 Tampa Bay Times article Rep. Ritch Workman, R-Melbourne claimed that he was working on a proposal similar to the vetoed bill as recently as January 2014
As of this spring, however, Workman announced that he and co-sponsor Sen. Kelli Stargel would not file new legislation in 2014. He explained that the focus of this session was to cut taxes for Floridians by $500 million, and that such expansive efforts may consume a session.
Family Law Reform, a Florida organization that helped shape the bill, expressed disappointment in the legislature's decision. "I am beyond saddened that this bill will not become a reality," President Alan Frisher wrote in a statement. "Our proposed bill was good legislation. It protected our citizens and corrected inconsistencies in Florida law."
Attorney Jason Fox explained, "Just because the law won't be changing, doesn't mean that divorce proceedings are any easier. The law is still complex, as it stands, and it can be challenging to ensure that all parties are treated fairly."
Florida Statute 61.08 sets the standards for alimony, including what constitutes a short-, moderate- or long-term marriage, and whether there is eligibility for additional bridge-the-gap alimony for the first two years after a divorce. On their website, Florida Alimony Reform describes the current statute as "among the most draconian and out-of-date in the country," but the Tampa Bay Times article by McGrory noted that many citizens worry that the changes to the law may put eligible alimony recipients at a disadvantage following a divorce.
"Floridians can expect this issue to return in future sessions," Jason Fox advised. "So it's always important to keep apprised of the most current laws."
More information about the debate surrounding Florida alimony reform can be found online at the Tampa Bay Times.
This information is provided for educational purposes only and does not constitute legal advice.
About Carlson, Meissner, Hart & Hayslett , P.A.
The law firm of Carlson, Meissner, Hart & Hayslett P.A. was founded in 1971 by attorneys Ed Carlson and Paul Meissner. For more than four decades, they have been committed to protecting the injured and defending the accused. Their attorneys have established a solid reputation of case success throughout Florida, providing strong legal representation, easy accessibility and a high level of dependability. A client-centered approach ensures that clients know what is happening as their case progresses, and understand their options every step of the way. With a focus on personal injury, they help victims of auto accidents, slip and falls and wrongful death accidents. The firm is well-known for their innovative criminal and DUI defense work, defending both local and high-profile clients. Attorney and Partner Kevin Hayslett is widely recognized as The Attorney to the Stars, providing strong legal representation for notable celebrities and dignitaries throughout Florida. The firm also handles social security disability, workers compensation, divorce, family law and immigration cases. They offer free initial consultations and have five convenient Tampa Bay Area locations. Attorneys are available 24/7 for emergencies. Count on the legal team of Carlson, Meissner, Hart & Hayslett, P.A. to be there, fighting for you, protecting your rights. For more information or to schedule a consultation, call 877-728-9653 or visit their website http://www.carlsonmeissner.com