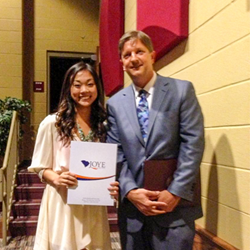 "We're very pleased to extend this award to Caryn Ramelb," explains Joye Law Firm's Managing Partner Ken Harrell. "She is very deserving, and we are sure that she has a bright future ahead of her."
Charleston, SC (PRWEB) May 17, 2014
Joye Law Firm is proud to announce Ms. Caryn Ramelb, a graduating senior at Ashley Ridge High School, has been awarded a $2,000 Joye Law Firm scholarship. The Summerville resident plans to study nursing at the University of South Carolina in Columbia this fall.
"We're very pleased to extend this award to Caryn Ramelb," explains Joye Law Firm's Managing Partner Ken Harrell. "She is very deserving, and we are sure that she has a bright future ahead of her."
The Joye Law Firm scholarship program, which is in its eighth year, has awarded over $100,000 to college-bound seniors from across South Carolina. Ms. Ramelb is the first awardee of the firm's 2014 spring scholarship campaign. Five other South Carolina seniors will be also be named as scholarship recipients this month.
Caryn Ramelb is the Ashley Ridge Student Body President, Dorchester 2 Student Liaison and member of various school activities, including JROTC, National Honor Society and Jefferson Leadership Council. She is an active in the local community and has volunteered for Relay for Life, Lowcountry Food Bank, Summerville Miracle League, Special Olympics, Palmetto House and the Knights of Columbus.
"We received more applications this year than ever before," added Mr. Harrell. "It was extremely difficult to choose only six students, but it showed us just how intelligent, talented and ambitious our future generation of leaders truly is and how we should expect great things from them."
Leading by Example
To recognize the importance of giving back to the community, Joye Law Firm established Joye in the Community—a year‐round program that encompasses the firm's community and service efforts. The initiative is designed to enrich the lives of everyone involved in the program and raise awareness about the needs of those in the Clinton, Charleston and Myrtle Beach areas. Visit http://www.joyeinthecommunity.com to learn more.
About Joye Law Firm
Based in North Charleston, S.C., Joye Law Firm has been providing legal services to the people of South Carolina since 1968. The firm of accomplished South Carolina injury and disability attorneys offers more than 130 years of combined litigation experience. Visit http://www.joyelawfirm.com to learn more.