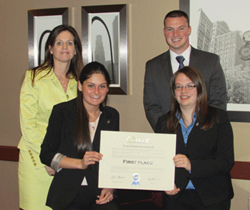 I think the 9 students who presented did a wonderful job. They will be a very good presence in the industry in the future... Competition Judge, Edward Skelly, RFC from Sterling Financial Partners in Ashburn, VA
Middletown, OH (PRWEB) May 19, 2014
Participation in the Finals of the competition was the last phase which saw three teams vying for the top spot. The teams were judged by an experienced group of financial professionals - all who felt that it was a tough decision and that each team obviously had put a lot of effort into the process. Second place was awarded to Shepherd University, Shepherdstown WV, team members Bonnie Bailey, Akhtar Khan and Avery Mendzela. Their guiding professor was Nicolas Pologeorgis. Third Place went to Bowling Green University, Bowling Green OH, team members Dana Kaufman, Elizabeth Kevorkian and Becca Smoody. Their mentor was adjunct professor Matthew Garrow.
"Each step of the competition, from researching and compiling the plan to actually presenting it to a room full of professionals, took a great deal of time," commented Bryant University team winner Jamie Pepin. "I have learned so much from the experience. It has been one that will stay with me forever." Bryant University lecturer Mara Derderian had handpicked the three participants to work on this project outside of their regular curriculum. "We will absolutely do this again next year," she affirmed.
This year's competition benefitted from two major corporate sponsors, Royal Alliance and Cetera Advisors. IARFC members also contributed to make the event a success many of whom were very interested in helping students in financial programs have a real world experience – the Financial Plan being a core product for a client. The IARFC provided opportunities for students to network and gain insight from financial services professionals.
IARFC Board Director Michelle Blair from New York was a judge for both the Semi-Finals and the Finals. She summed up the two day experience thus: "They are the next generation for the financial services industry and their schools should be very proud of their efforts."
More information on the IARFC National Plan Competition can be found on the website http://www.iarfc.org. This would include opportunities to become a sponsor for the 2015 Competition. Professors wishing information on making this a part of their curriculum can contact Amy Primeau, Member Services ext. 307.