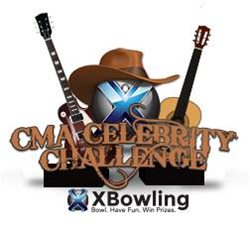 The CMA Music Festival and XBowling are the perfect blend of audiences. The country music fans are authentic, loyal and love to bowl.
Atlanta, GA (PRWEB) May 16, 2014
Sports Challenge Network, LLC (SCN) announced today that on May 10, 2014, it has launched the CMA Celebrity Challenge in connection with SCN's partnership with the Country Music Association (CMA) for the 2014 CMA Music Festival. Through its XBowling mobile platform, SCN will allow Country Music fans and bowling enthusiasts to vote for their favorite Country Music stars to bowl live inside AT&T U-verse® Fan Fair X at the CMA Music Festival. Throughout the Festival, SCN will have bowling lanes set up for tournaments and exhibitions inside AT&T U-verse Fan Fair X where celebrities, professional bowlers, and fans will be encouraged to try their hand in mini-tournaments and challenges.
The 2014 CMA Music Festival artists participating in the CMA Celebrity Challenge and will be making appearances inside Fan Fair X to play against select winners include, Multi-Platinum Artist Lonestar, Mark Wills, Lindsay Ell, Trent Tomlinson, Trick Pony, The Henningsens, Natalie Stovall & The Drive, David Shelby, George Ducas, Joshua Scott and Lizzie Sider.
In addition to voting for their favorite Country Music artists, players engaged with the CMA Celebrity Challenge will have an opportunity to win exciting prizes. Our skill-based contest, CMAnia Challenge, allows bowlers to vote for their favorite artists by bowling and to win prizes based on their bowling score during the contest period. The player with the highest cumulative bowling score will win the Super Grand Prize – a 6 day, 5 night trip and VIP Passes to the CMA Music Festival for the winner and a guest. Five players with the next highest scores will win the Grand Prize – 4 Day VIP Passes for the winners and their guests to theFestival. Each time players vote, they are also entered into sweepstakes for 5 more Grand Prizes as well as Daily Prizes of hats and tee-shirts. The CMA Music Festival and its partners assist in providing support to The CMA Foundation. Watch for announcements with further details on participating Country Music artists and the official launch date for the CMA XBowling Celebrity Challenge.
Detailed rules of the CMA Celebrity Challenge are available on XBowling's Facebook page and http://www.XBowling.com.
"The CMA Music Festival and XBowling are the perfect blend of audiences. The country music fans are authentic, loyal and love to bowl. The XBowling platform provides artists and celebrities alike a unique forum where they can play together. We are looking forward to all the great stories that will be created socially as a result of our partnership. I am personally very excited to see some of my favorite artists perform and then bowl against them head to head at AT&T U-verse® Fan Fair X. On behalf of Sports Challenge Network and XBowling we are honored to be the official bowling industry partner of CMA and the 2014 CMA Music Festival in Nashville," said Timothy J. Minard, founder and CEO of SCN.
About CMA
Founded in 1958, the Country Music Association was the first trade organization formed to promote a type of music. In 1961, CMA created the Country Music Hall of Fame to recognize artists and industry professionals with Country Music's highest honor. More than 7,000 music industry professionals and companies from around the globe are members of CMA. The organization's objectives are to serve as an educational and professional resource for the industry and advance the growth of Country Music around the world. This is accomplished through CMA's core initiatives: the CMA Awards, which annually recognize outstanding achievement in the industry; the CMA Music Festival, which benefits music education and is taped for a three-hour TV special; and "CMA Country Christmas," featuring Country artists performing original music and Christmas classics. All of CMA's television properties will air on the ABC Television network through 2021.
About The CMA Music Festival
The Ultimate Country Music Fan Experience began in 1972 as Fan Fair®, bringing 5,000 fans to Nashville's Municipal Auditorium. More than 40 years later, the now legendary festival has become the city's signature music event. In 2013, CMA Music Festival attracted more than 80,000 daily visitors from every state and two dozen foreign countries. CMA Music Festival is organized and produced by the Country Music Association. Fan Fair® is a registered trademark of CMA.
About XBowling
XBowling is a social mobile application that offers bowlers an opportunity to engage in new types of gaming experiences at bowling centers around the world. Players can compete against each other in live Head to Head Challenges while bowling in the same center or different centers around the country and the world. They can also compete against games previously bowled and "posted" on the XBowling network. Players can also enter "solo" Challenges, such as XBowl Mania, Lotto Bowl, or Beat Your Average, competing to achieve a certain game or frame result. Players can win points every time they play through gameplay, skill, and social interactions that allow them to build their XBowling leaderboard status and redeem their accumulated points for great merchandise and sports gear through the app or the web. Players can also use the XBowling platform to engage with celebrities through the VIB ("Very Important Bowler") section of the app, bowling in special Challenges for the right to participate in live celebrity events, such as celebrity bowling tournaments, or for the right to attend unique athletic and sporting events.
Over the last two years, the XBowling platform has recorded close to 1 billion balls thrown at XBowling enabled centers. XBowling is currently available on Apple IoS and Google Android devices, via free downloads from the App Store and Google Play.
Bowling is the largest recreational sport in the world with over 130 million annual participants globally. In the US alone, 70 million people bowl at least once a year, 10 million people bowl at least once a month, and millions of people bowl 7 million games each day.
About Sports Challenge Network
Sports Challenge Network, LLC ("SCN") was established in 2010 with the goal of increasing participation and creating new types of experiences and competition within recreational sports by harnessing the power of mobile and social technology. SCN apps offer players and fans new game experiences through personalization, challenges and contests, rewards, and social connections. SCN will be the primary destination in the app universe, and on the Web, for fans, players, and other participants who want to compete and have fun with their favorite sports in new ways. More information can be found at XBowling.com, Twitter and Facebook.
For further information, please contact:
Sports Challenge Network, LLC
Gene Chayevsky
(678) 541-2522
gene(at)XBowling(dot)com