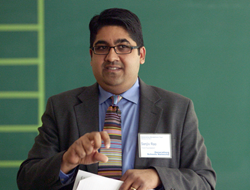 Generation Schools Network is trying to create a new normal so that there is no gap between what students deserve in education with what they actually experience.
New York, NY (PRWEB) May 19, 2014
On Friday, May 16, 2014, a group of 50 educators, business leaders, funders and researchers gathered in Manhattan at the Ford Foundation offices to learn about Generation Schools Network's unique College & Career Readiness Program.
"Generation Schools Network is trying to create a new normal so that there is no gap between what students deserve in education with what they actually experience," said Sanjiv Rao, Program Officer at The Ford Foundation who hosted the event.
Research shows that to adequately prepare all students for success in postsecondary education and living wage jobs, on-going supports are necessary throughout a student's secondary school experience. This is especially true for low-income students of color.
Of the event, Generation Schools Network Co-Founder and Chief Learning Officer, Jonathan Spear remarked, "Having more time to close content gaps is critical, but without focusing intentionally on preparing students for postsecondary success, students can be left woefully unprepared for managing college level work and having the skills to succeed in the workforce. At Generation Schools Network, we have found a way to revolutionize college/career preparation and are excited to be releasing this white paper to share it with the field".
The paper describes the gap between the types of preparation available to students of different socio-economic levels, the critical needs in the U.S. workforce and how the Generation Schools Model offers more than 280 hours of annual college/career guidance and support. The approach is multi-faceted and includes twice annual month-long Intensive Courses where students use project-based learning to tie academics to high growth industries, a head start on college through concurrent enrollment opportunities, internships, and daily advocacy time to support student decision making and goal setting.
Please click here to read the paper: Linking Learning to Life: How Expanded Learning Time Creates the Opportunity for College & Career Readiness Programming.
"Business and industry play a critical role in our ability to reinvent guidance," said Chad Cookinham, Director of College & Career Readiness for Generation Schools Network. "Industry leaders partner with our teachers to create relevant and meaningful exposure opportunities for our students like visiting a cadaver lab, building a solar cell phone charger, job shadowing in a hotel for a day or sitting in a board room for a client presentation."
Mr. Spear presented the paper, seeking to shatter the notion that 1-2 hours of guidance counseling per year and a national ratio of one guidance counselor serving 450 students is enough to close opportunity gaps for low-income and minority students.
Mr. Rao summed up the morning by acknowledging that, "Generation Schools Network focuses on what we all want for kids and then provides the time, structures, and practices to schedule, staff, and fund that vision."
Generation Schools Network (GSN) is the first in the nation to implement public school solutions that expand learning time, reduce core class size, transform college and career guidance, integrate blended learning and increase common planning and training time for all teachers. GSN accomplishes this and more -- through cost-effective strategies while seeking to operate within key parameters of teacher contracts.
To learn more about Generation SchoolsNetwork's revolutionary program, please visit generationschools.org.
ABOUT GENERATION SCHOOLS NETWORK
Generation Schools Network (GSN) is a nationally recognized, award-winning nonprofit organization whose innovative education model offers students and teachers up to 30% more and better learning time. Recognized by Bridgespan and the Center for High-Impact Philanthropy as one of the most cost-effective and promising school-redesign models in the country, GSN is dedicated to re-thinking the basic structures of a public school to ensure that all students – regardless of life circumstances – have access to a great education. Ultimately, their mission is to fundamentally transform schools to better prepare students for life's responsibilities, challenges, and opportunities.
To learn more about Generation Schools Network and/or view a printable copy of the organization's latest white paper in its entirety, visit generationschools.org, or send an email to info(at)generationschools(dot)org, or contact Jonathan Spear, Co-Founder and Chief Learning Officer of Generation Schools Network, at (347) 410-5322.