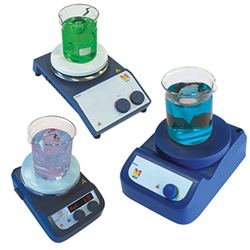 Adam Equipment is the exclusive importer of a new product line from MKLab.
Johannesburg, South Africa (PRWEB) May 21, 2014
Adam Equipment, a world-class provider of professional balances and scales, is pleased to announce that it is the exclusive importer of a new product line from MKLab. The MKLab products offer exceptional value and are available from Adam's network of distributors in South Africa and throughout Africa. The MKLab product line consists of magnetic hotplate stirrers, magnetic stirrers and mixers.
Quick to reach a uniform temperature, MKLab's three models of magnetic hotplate stirrers reliably heat and mix solutions. With a powerful motor and magnet, the MKHS-C and MKHS-S can stir volumes up to 20 litres. The MKHSpro models offer a compact option that stirs a volume of up to three litres of solution. The MKHS-C and MKHS pro-C models have a ceramic heating plate. The MKHS-S and the MKHSpro-S have a stainless steel heating plate. Stainless steel plates resist cracking and chipping, and provide a uniform heating surface. The ceramic heating plate is fabricated of materials designed to resist chemical corrosion and minimise plate discoloration.
The magnetic stirrer boasts simplicity and function. A rotary dial adjusts the speed, while the robust housing diverts spills. The high-powered magnet with 135mm-diameter plate easily mixes various solutions and supports stirring bars up to 50mm long.
MKLab mixers are available in two compact, durable models suitable for life science labs – microplate mixers and vortex mixers. The vortex mixer (MKVT) allows vigorous resuspension of cells or chemical pellets in tubes up to 15ml. The microplate mixer (MKMP) can be combined with various attachments for use in life science fields such as microbiology, cell and molecular biology, immunology and biotechnology.
For more information on MKLab products, contact +27 11 974 9745 or email sales(at)adamequipment(dot)co.za.
About Adam Equipment
For more than 40 years, Adam Equipment has designed and manufactured precision balances and scales for professionals worldwide in the laboratory, medical, education, industrial, food, animal/veterinary and jewelry markets. Adam is committed to offering an extensive selection of weighing equipment with best-in-class value. Headquartered in the United Kingdom, the company has strategically established offices in the United States, South Africa, Australia and China to provide product support and speedy delivery to distributors. For more information about the company and its products, go to http://www.adamequipment.com.