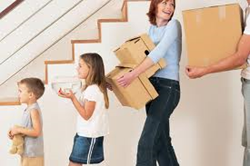 (PRWEB) May 16, 2014
The day of the move can be highly stressful for parents as well. However, a new article, entitled How to Have a Hassle-Free Move if You Have Kids, recently published on Movingquote.org walks parents through some practical tips for easing the transition.
The article provides advice on how parents can care for, occupy and comfort their kids during a move. It discusses specific, like moving gradually over a few days or taking play breaks that can be done before, during and after the move to keep kids happy and engaged. It also talks about how to help kids manage the emotions associated with relocating to a new home and neighborhood.
"We recognize moving can be hard, especially when you have kids to consider," said the movingquote.org spokesperson. "Our goal is to make moving easier for our customers. That primarily involves offering users a hassle-free way to get multiple moving quotes from our network of movers, but it also includes giving helpful advice about all the ins and outs of the moving experience. Proper preparation reduces stress."
Movingquote.org's quote tool is easy to use. Users input what they plan to move, how far they're going, and when they will move. The company then sends the information to several competing moving companies that have been prescreened for reliability and professionalism.
In a matter of minutes, the customized estimates are sent to the users and they can filter through the quotes and choose the company that suits them best. Users also have many options to choose from, including full-service movers, self-service movers, rental truck companies, and auto transporters. The network also consists of local and long-distance moving companies.
"Gone are the days of thumbing through the phonebook and making dozens of calls – and frankly wasting a lot of time. With our website, a person planning a move can access dozens of moving options in just minutes," said the spokesperson. "That gives them more time to handle some of the other details of a move, like keeping kids happy as they move and adjust to new surroundings."
To read the complete article, How to Have a Hassle-Free Move if You Have Kids, go to http://www.movingquote.org/hassle-free-moving-with-kids/.