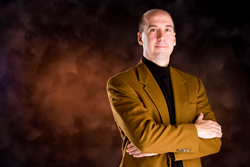 Learning to unlearn is critical to our success, my job as futurist and change-agent is give audiences insights on how to do that.
Nashville, TN (PRWEB) May 19, 2014
On May 19, in Nashville, TN, global futurist Jack Uldrich will join Richard Clarke, former National Coordinator for Security, Infrastructure Protection and Counter-Terrorism, among others, as one of USMA's 2014 Educational Conference highlighted speakers.
The USMA is a multi-national association of individuals serving the electric, gas and water utilities. The role of the USMA is to understand the sophisticated workings of the supply chain to provide its customers (utilities, suppliers, manufacturers, etc.) with skills and tools to realize profit opportunities in the supply chain.
Hailed as the "Chief Unlearning Officer", Uldrich's talk will focus on the conference's mission of providing exposure to latest technology and upcoming trends, as well as learning how to embrace those trends and "unlearning" old habits in order to future-proof their businesses.
As a futurist, Uldrich says the future is "predictably unpredictable." So part of his tactic in his custom designed USMA presentation, is to ask them the question: How does a person prepare for such a paradoxical future? His answer lies in encouraging his audience to embrace other paradoxes such as learning to unlearn, thinking about the unthinkable, embracing failure as a key component of success, and acknowledging that an awareness of one's ignorance is a key component of wisdom. In addition, Uldrich will also share insights from his latest book, Foresight 20/20: A Futurist Explores Tomorrow's Trends Today." (Here are some of Uldrich's thoughts on the future of utilities.)
Uldrich has addressed hundreds of business groups around the world, including delivering customized keynote presentations to the Idaho Technology Council, Invensys, United Healthcare, Bausch and Lomb, Boston Scientific, Fiatech, Eaton, the European Association of International Educators, the Council for Advancement and Support of Education, the AMA, the Million Dollar Round Table and scores of other corporations, associations, and private organizations.
Parties interested in learning more about Jack Uldrich, his books, his daily blog or his speaking availability are encouraged to visit his School of Unlearning website. Media wishing to know more about either the event or interviewing Jack can contact Amy Tomczyk at (651) 343.0660.
Uldrich is a renowned global futurist, technology forecaster, best-selling author, editor of the monthly newsletter, The Exponential Executive, and host of the award-winning website, http://www.jumpthecurve.net.