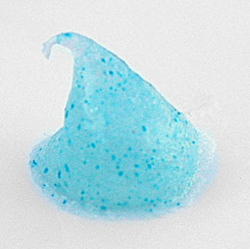 Charlotte, NC (PRWEB) May 21, 2014
South Charlotte Dentist, Dr. James Wells, recently discovered a report that claims certain toothpastes contain tiny plastic particles. "It is a concern of mine because these pieces of plastic can get lodge into my patients' gums," said Dr. Wells. Until further research is done, Dr. Wells cannot be sure how this plastic might affect oral health overall.
Plastic in Toothpaste
Recently, Dentalbuzz.com reported that some varieties of toothpaste contain polyethylene. Polyethylene is the most common plastic in the world. It is used to make plastic containers, packaging, bottles and grocery bags. It's not biodegrable. And it does not dissolve in water, alcohol or acetone.
The toothpastes in question are the ones that appear to be extra cleansing with bits of color added. They are usually gel based toothpastes with little specks of blue or green in it. The specks are made of the plastic polyethylene. One of the leading toothpaste brands state this about polyethylene: "It's a safe, inactive ingredient used to provide color."
This microplastic is also used in skin exfoliators and other personal care products.
The Concern
Dr. Wells is concerned about the impact on the gums. "Around our gums, we have a sulcus, which is like a little channel between the tooth and the gum. This is where gum diseases like gingivitis begin. And this is where the little specks of plastic get stuck," said Dr. Wells of South Charlotte Dentistry. These pieces can get under the gum line a dental hygienist noted on the Dentalbuzz report.
It is unsure if these pieces of plastic are causing any problems as of yet. "Why do we need plastic in our toothpaste if it is an inactive ingredient?" asks Dr. Wells.
The Results
"Currently, there is not enough evidence to link polyethylene to gum disease," said Dr. Wells. He thinks that consumers should be aware of what might be in their toothpaste and make their own decision. "If the specks are merely decorative, customers might want to choose a toothpaste without plastic."
The leading toothpaste manufacturer, Procter and Gamble, is reported to have said "We will discontinue our use of PE micro plastic beads in skin exfoliating personal care products and toothpastes as soon as alternatives are qualified." There are also a few states trying to ban the use of polyethylene in beauty products.
Dr. Wells of South Charlotte Dentistry is happy that toothpaste manufacturers are listening to the concerns of consumers and taking action. The team at South Charlotte Dentistry specializes in Family and Cosmetic dentistry. They are located in Charlotte, NC in the Ballantyne area. For more information about the practice, visit their website or Facebook page.