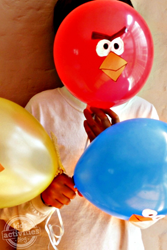 Set up an Angry Bird water balloon flight for the next birthday party.
Dallas, TX (PRWEB) May 20, 2014
Angry Birds are fun. Angry Bird game ideas and awesome paper dye art projects have been released on Kids Activities Blog. Get ready for great ideas for the next birthday party.
Angry Birds are cute. Simply make a set of colorful Angry Birds out of balloons and face templates. Print out the face templates published on Kids Activities Blog and glue them onto the balloons.
Line up the balloons and play a game of target practice with a dart gun. If the balloons are outside let the kids use sling shots to bounce the balloons.
An Angry Bird water balloon flight is fun for younger and older kids. Fill up a water balloons and let the kids have a blast smashing the birds.
Paper dye art experimenting is such a simple and fun technique for kids to create beautiful designs on paper. Best of all, it is relatively mess free.
The craft is suitable for kids age 5 and up. The activity combines art, simple science, learning, and crafting.
Materials needed are felt tip markers, coffee filters or Chinese paper, and a spray bottle. Paper towels do not work since they completely absorb the paint.
Begin by drawing designs onto the coffee filters. Keeping a few white spaces is OK so the colors will not blend with each other and turn black. Then either spray the sheet with a touch of water or flick a little water with the fingers.
Let the kids be amazed how their design transforms into beautiful artwork.
For detailed instructions and to get additional fun ideas, check out Kids Activities Blog this week. Come get inspired to have a blast together with the kids.
About Kids Activities Blog
Kids Activities Blog is a website created by two moms (who collectively have 9 children), Holly Homer and Rachel Miller. Their new book published by Page Street, 101 Kids Activities That Are the Bestest, Funnest Ever! will be released June 10. It is currently pre-selling on Amazon and Barnes and Noble. Kids Activities Blog is an interactive website that publishes fun things to do with kids twice a day. It is an amazing resource for moms, dads, grandparents, caregivers and teachers to find kid-friendly activities that create memories and sneak learning into the fun.