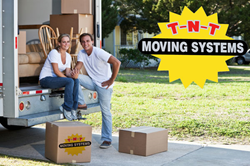 Charlotte, NC (PRWEB) May 19, 2014
There are many factors that contribute to the growth and success of a business. The owners at T-N-T Moving Systems believe one benefit for them is working in a great city, Charlotte, NC. "We'd like to attribute our success to our great service, but we know Charlotte also plays a big role," said Tom Tulowiecki, co-owner of T-N-T. "This year we have seen an increase in local residents moving into new homes in Charlotte as well as outsiders moving in to make Charlotte their new home."
As moving professionals, their business is dependent on the residents of their city. Fortunately, for T-N-T, Charlotte continues to grow, providing plenty of customers in need of professional movers.
About Charlotte
Recently, Charlotte and the surrounding area was ranked 3rd by Forbes Magazine in their "Housing's Best Buys for 2014." According to Forbes, the Charlotte, Gastonia and Concord areas have a median home price of $201,855. The three year growth forecast for this area is 24 percent and today, prices of homes are considered 15 percent undervalued. These three factors make Charlotte a safe bet in the real estate market.
Charlotte, also known as the Queen City, attracts residents through job opportunities, climate and offering an active life for families. These include professional sporting events, the White Water Center and ample entertainment venues. Charlotte's reputation continues to grow as a great place to live.
T-N-T Moving Systems recently added Area Guides to their website to help newcomers get familiar with the city. "We want to give our customers new to Charlotte a reference guide to find all the cool spots in the city," said Todd Koepke.
About T-N-T
T-N-T Moving Systems has been in business for 19 years and are the Official Movers of the Carolina Panthers. They handle both local and long distance moves for residential and commercial customers. "We have built our business on trust," said Tom Tulowiecki. In an industry where trust is a top priority, it is important to choose the right movers. T-N-T has never had a compliant with the US Department of Transportation and is a member of the Charlotte Better Business Bureau.
"We take pride in the Charlotte community and are thrilled that we get to welcome so many newcomers into our great city," said Tulowiecki. As more and more people choose Charlotte as their home, T-N-T Moving Systems has seen their residential moving service increase. "2014 is turning out to be a great year and we expect that trend to continue as we move into our busy summer season."