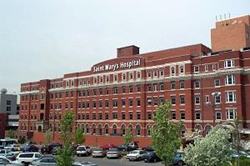 Revenue360 will help Saint Mary's Hospital reduce operational costs and errors that flow through our information systems.
Beaverton, OR (PRWEB) August 07, 2014
The Beaverton, Oregon based developers of the Revenue360 hospital revenue cycle management platform at Provider Advantage NW, Inc announced that they have executed an agreement with Saint Mary's Hospital in Waterbury, Connecticut to implement the Revenue360 Insurance Code Solution and Address & Demographic Validation modules.
St. Mary's will use the Revenue360 Insurance Code Solution and Address / Demographic Validation modules to prevent common registration errors while ensuring the information provided by the patient is accurate. Revenue360 taps into thousands of public data sources and instantly verifies the information provided by the patient. Ensuring that the patient access staff enters accurate information into the hospital database the first time eliminates much of the back-office rework necessary to contact the patient after they leave the facility.
With all the regulatory changes impacting healthcare today, it's more important than ever to ensure that the correct patient information and health plan data is entered into the hospitals information system during the registration process. Most hospitals try to manage this process at the point of service while the patient is focused on receiving care. By not receiving adequate information prior to providing service, the hospital can encounter complex and costly issues when following up with the patient and the Accountable Care Organization (ACO). If this information isn't accurate, the health care provider may not be able to get in touch with the patient to provide important test results, follow-up treatment plans, or make sure insurance claims are paid in a timely manner. Confirming the patient's identity also reduces the risk of medical fraud.
Revenue360 reduces the high cost of correcting errors downstream from the initial registration, lessens the incidence of returned mail and accounts sent to collections, and expedites the payment of claims from health plans. Successful patient identity management helps the healthcare system comply with stringent HIPAA privacy and security guidelines.
"Revenue360 will help Saint Mary's Hospital reduce operational costs and errors that flow through our information systems. By getting common errors resolved immediately at the time of patient admissions, there is less rework and more time to spend on patient care," says George Semko, Vice President of Revenue Cycle for Saint Mary's Hospital. "I've worked with Revenue360 before and have seen firsthand the positive impact it can have on a hospital's revenue cycle. At a former organization, we were able to improve total registration accuracy from 70% to 95%. These are challenging times for healthcare. I'm sure you can imagine the benefits that level of improvement can bring to a healthcare organization like St. Mary's."
"We are very excited to work a visionary system like Saint Mary's Health System." says Edward Tomkins, President of Provider Advantage. "We have every confidence they will achieve the same level of success as our other hospital clients. These hospitals are enhancing their revenue cycle management processes to help manage the significant changes that came with the Affordable Care Act."
About Saint Mary's Health System
Saint Mary's Health System is a leading regional healthcare provider anchored by Saint Mary's Hospital, an acute care community teaching hospital that has served Greater Waterbury for more than 100 years. Licensed for 347 beds, Saint Mary's is designated as a Level II Trauma Center and Primary Stroke Center, offers award-winning cardiac care and houses the region's only pediatric emergency care unit. The health system's satellites and affiliates extend from Waterbury to Wolcott, Naugatuck, Southbury, Prospect and Watertown. Learn more at http://www.stmh.org
About Revenue360:
Revenue360 Helps Hospitals Get Paid Faster! By integrating public data into the hospital's workflow, Revenue360 leads staff to higher point-of-service collections and prevents common errors, resulting in cleaner claims. By providing customized guidance based on your business rules, Revenue360 simplifies complex processes such as eligibility verification, address and demographic validation, pricing estimation, and more!
Revenue360 reduces rework, increases and accelerates total revenue, and improves customer satisfaction through better patient communication. Learn more at Revenue360.net.
About Provider Advantage:
Since 1991, Provider Advantage NW, Inc. has been providing innovative products and services to access real time healthcare data. Provider Advantage develops, markets, installs, and supports electronic data interchange (EDI) technologies that allow organizations to obtain, utilize, and manage insurance data to generate operational efficiency and improve cash flow.
For more information, contact Provider Advantage NW at (800) 337-5482 or at http://www.provider-advantage.com.
Provider Advantage and Revenue360® are trademarks of Provider Advantage NW, Inc.
© 2014 Provider Advantage, Inc.
All Rights Reserved