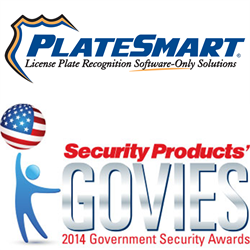 This award is further proof that ARES is the best available security solution for the government sector.
Oldsmar, Florida (PRWEB) May 16, 2014
ARES, the software-only video analytics platform by PlateSmart, has won the Platinum designation for its 2014 Govies Award in the category of Video Analytics. The award was presented to PlateSmart May 13th at the GovSec TREXPO in Washington, DC.
The Govies, which are awarded annually by Security Products magazine, honor outstanding government security products in a variety of categories. Winners are chosen by a panel of judges from the security industry, who base their decisions on criteria including features, innovation, user-friendliness, interoperability, quality, design, market opportunity, impact in the security industry, technical advances, and scalability. Whereas most categories in the 2014 competition named multiple winners, ARES, the world's first complete end-to-end video analytics solution based on License Plate Recognition (LPR), was the sole winner in its category. The software was also one of only a handful of products to win a Platinum designation, which recognizes especially exceptional security technologies.
ARES, which won the 2013 Frost & Sullivan Award for Technology Innovation Leadership, combines the highest LPR accuracies in the industry with state-of-the-art analytics, providing users unprecedented situational awareness in real time. In addition to being used by many private entities, including hospitals, casinos, and university campuses, ARES is also deployed by a number of federal agencies including the Naval Criminal Investigative Service (NCIS). The software was selected for NCIS by the Undersecretary of the Navy, who declared it the only LPR product that could meet the agency's needs.
"This award is further proof that ARES is the best available security solution for the government sector," said PlateSmart founder and CEO John Chigos, adding, "PlateSmart provides the most accurate, versatile, robust, and cost-effective video analytics solutions in the industry. I am extremely proud of my team and what we have accomplished together."
More information about ARES and other PlateSmart products can be found at http://www.platesmart.com.
About PlateSmart
PlateSmart Technologies, Inc., has developed the world's first software-only License Plate Recognition (LPR) and video analytic solutions, which are compatible with both state-of-the-art and legacy cameras. PlateSmart offers both mobile and fixed LPR and analytic solutions, which are designed either to function as stand-alone tools or to integrate with third-party software and hardware. ARES, PlateSmart's enterprise LPR-based analytic solution, provides real-time actionable intelligence with industry-leading accuracies and state jurisdiction recognition for complete situational awareness. PlateSmart's solutions have been recognized as the most innovative and forward-thinking LPR technology by Frost and Sullivan. http://www.platesmart.com