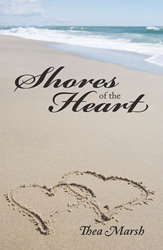 Most husbands have no idea how passionate their wives can be. Men who are sensual, who are intrigued by the puzzle of a woman and who desire to be intimate on every level, those men are irresistible to women.
Vineyard Haven, MA (PRWEB) July 21, 2014
What do romance, sex, motherhood, literature, Martha's Vineyard, and an extramarital affair have in common? You can find them all in Thea Marsh's new book, Shores of the Heart! The novel's main character, Miranda, lives on Martha's Vineyard with her husband and three young children. She meets Clay, a wealthy New Yorker, and becomes entangled in a steamy affair that threatens her marriage. Shores of the Heart challenges readers to think about what choices they would make. Should Miranda stay with her husband or follow her passion to a life with Clay? The book examines what it means to be a mother and gives insight into the interior conflicts that affect women.
Shores of the Heart is Marsh's first self-published novel. She wrote it because ordinary lives are seldom the subject of such scrutiny, and hopes that by telling about Miranda's life, women everywhere will see themselves and feel understood. She wanted to tell the story of a woman who has an affair and is not punished for it, and to describe sex in a sensual, beautiful way. She also wanted to write a book that celebrates motherhood. Perhaps a man would even pick up her book and gain some insight into the women in his life.
Here's what readers have said about the book:
"This book is like picking up a snack and getting a meal instead." -Norah K.
"Like Miranda I love books, my children, and my husband too and now this book has a place in the shores of my heart." -Claire B.
"I feel like I had a vacation in Martha's Vineyard." -Elyse P.
"I allowed my seventeen year old daughter to read this book because the descriptions of sex are natural and not sado-masochistic." -Danielle R.
"This book packs a punch, both moving and, at times, shocking. It puts a modern spin on Anna Karenina." -Alexandra L.
Thea Marsh is a clinical psychologist, a mother of four, and a bibliophile. Her background as a psychologist deepened her understanding of relationships and the conflicts and challenges women face. Her experiences as a mother have shown her what sacrifices mothers make for their children. She cannot remember a time in her life without words, and her years of involvement in book groups led her to include some discussion questions at the end of the book.
Paperback, hardcover, and ebook versions of Shores of the Heart can be purchased at mirabooksmart.com. The ebook is also available on Amazon, Apple, Barnes & Noble, and ebooks2go. The paperback version is on Amazon as well. Look for the website shoresoftheheart.com. Like us on Facebook.