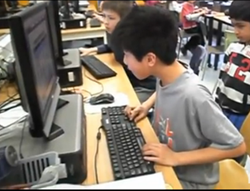 They wish they could play more.
Toronto ON (PRWEB) May 17, 2014
All kids learn differently, but they all have to know how to think. The Thinking Skills Club after school computer club has revamped its website to reflect its core mission: to help kids think more efficiently to support them in school.
The Thinking Skills Club offers a curriculum of online games that kids can play as an extra class activity or in an after school club environment. Winning a game nets them a piece of a Brain Puzzle, which appears on their school's Club Page where they can watch it grow. Homeschool students can also play, and have their own page as well.
The club grew out of research showing that ordinary computer games have qualities that make them ideal for developing cognitive skills. But not all games are created equal, so the club divides them into a curriculum of six sections depending on their strong suit.
Memory games develop working memory, which is important for following directions, as well as digit span, key for remembering lists, and declarative memory, important for storytelling and putting ideas together to develop knowledge. The games in the Executive Function section develop two kinds of skills, Planning and Managing and Risk and Self Control. Playing these games gives students sustained practice in these skills which builds up ability in a focused way.
Attention games are similarly divided into Sustained Attention, required for time on task, Spatial Attention, important for math and science, and Divided Attention, which help with multitasking.
The club is currently winding down for the year, but schools interested in starting in the Fall can register ahead of time.