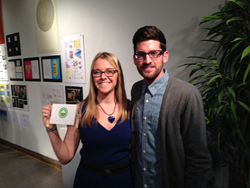 Dallas, TX (PRWEB) May 16, 2014
The 2014 UNT Communication Design Show was held Friday, May 9, in the gallery at the College of Visual Art and Design. Launch awarded $1,000 scholarships to the top junior design and art direction portfolios. This year's winners were Amber Schmitzer for graphic design and Chase Kahn for art direction.
This is the eighth year that Launch has awarded scholarships to the student design and art direction majors whom Launch representatives and UNT faculty recognize as having achieved an outstanding body of creative work.
Launch Agency is a full-service advertising agency based in Dallas. Founded in 2003 after spinning off from Temerlin McClain, they are nationally recognized for award-winning creative work, and for competitively positioning and marketing both fast-growth and mature companies. Current clients include Park Place Dealerships, Promised Land Dairy, Children's Medical Center, Cooper Aerobics and Bed Bath and Beyond. Visit http://www.launchagency.com or on Facebook to learn more.