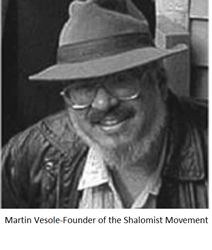 This can be one of the most exciting times in Modern Jewish History
Boca Raton, FL (PRWEB) May 21, 2014
"Remembering the Holocaust holds a universal appeal to the majority of Jews as it's commonly thought if we remember, it won't happen again," explained Martin Vesole. "However, what's missing here is the understanding that forces within our community could very well annihilate both the Reform and Conservative groups in our grandchildren's lifetime."
"Shalomists believe what is most disturbing is the clear and purposeful denial of what's been happening for many years. The Pew study confirms that the attrition trend previously identified in the landmark study 10 years ago is in full swing despite collective efforts in the interim. The time has come to try new, fresh, solutions," emphasized Vesole, founder of the Shalomist Movement.
Let's first look at a brief snapshot of what the majority are focusing on in respect to how their "Jewishness" is being expressed. According to the latest Pew Research Survey of US Jews, while it's admirable that leading an ethical and moral life is ranked high at 69% with working for justice and equality at 56%, what does it say about the priority of our core values when having a good sense of humor (42%) is so much more important to Jews than being a part of the Jewish community (28%)?
Jews have reached a higher moral ground thanks in part to the very fact that most who grew up in the 50's 60's and 70's benefited greatly by the bolstering of the very community that many find not as important any longer.
"Why are Jews exiting their religion at growing rates?" Vesole challenges. "We all have friends, relatives or even personal knowledge of this phenomena, it has touched us all. Too many temples and synagogues are struggling and closing throughout the country. It's time for us to collectively stand together with the same emotional and moral conviction equal to never letting another Holocaust occur again and channel that emotional intensity into addressing this issue which is having the same net effect of our ongoing reduced numbers. Reform and Conservative Jews need to stand together to preserve our community. This can become one of the most exciting and innovative periods in modern Jewish history."
About Martin Vesole
Martin Vesole is a 64 year old attorney who attended Washington University in St. Louis and graduated from the De Paul College of Law in Chicago. He lived in Israel for two years attending the Hebrew University in Jerusalem and working on a kibbutz famous for manufacturing the Naot sandal line. Martin worked as a legal writer for Commerce Clearing House in Chicago and also served as President of Temple Menorah and remains on the Board of Directors presently. He's divorced with a stepdaughter and two grandchildren.
About the Shalomist Movement
The mission of the Shalomist Movement is to open hearts and minds to broadening the Judaic doctrine to attract many who have left and revitalize it for all Jews. The root letters of Shalom mean "completeness" and "wholeness." Judaism needs to stretch to become more complete and whole by looking outside itself and being open to adopting ideas from the secular world and other religions that are compatible with Jewish thinking. While the primary focus of the Shalomist Movement is on broadening Judaism, it also teaches that there is much we can learn from others, and that building bridges of commonality is the start to a greater spiritual evolution based on global unity versus historical division.