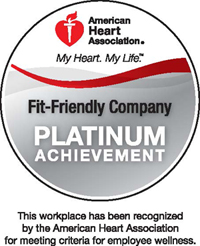 San Antonio, TX (PRWEB) May 17, 2014
Walkingspree, a specialized wellness program vendor, is proud to congratulate client Blue Cross Blue Shield of Michigan (BCBSM) on earning the American Heart Association's Platinum-level Fit-Friendly Worksite recognition. This award certifies the health and wellness of employees is a priority to BCBSM, through offering incentives to live and maintain healthy lifestyles and by incorporating tools to integrate healthy living in the workplace.
One of the tools BCBSM uses to encourage employees to lead healthy lives is the Walkingspree platform. Through the use of technology including activity trackers, an online platform and a mobile application, Walkingspree takes an innovative approach to combating inactivity in the workplace, as well as addressing rising health care costs. The Walkingspree program incentivizes Blues' employees and their families to meet daily step goals and take part in fun, competitive virtual challenges.
"We have had 81 percent of our employees register for the company-sponsored walking program since it launched in 2011, and that group averages almost 7,000 steps per day (equivalent to about three miles)," said Cathy Goheen, BCBSM vice president, Human Resources. "This platinum-level recognition from the American Heart Association is evidence we are leaders in improving the health of our region."
BCBSM established its BWell program in 2011 with Walkingspree as their walking wellness vendor since the program's inception. The BWell program incentivizes employees to take charge of their health by giving employees options and incentives to encourage them to make healthy choices both at work and at home. BCBSM's employees will soon be taking part in a Healthy Living Boot Camp challenge from Walkingspree, where employees must meet certain activity, nutrition and social goals in order to be eligible for monetary prizes.
"We are thrilled to serve BCBSM and be their walking program vendor since 2011," said Hiran Perera, Walkingspree's CEO. "By offering the Walkingspree program to not only their member-base as a premium-based insurance offering, but also to their employees, it is clear BCBSM sees the inherent value in walking. Their programs use both Fitbit trackers and our own Inspire Bluetooth wireless trackers to access the Walkingspree platform to keep them motivated."
ABOUT WALKINGSPREE
Walkingspree is a specialized wellness program vendor that employs interactive technology to inspire healthier choices and increased physical activity. These activities are shown to boost morale and help to control the rising cost of health care. The customized online program helps employers and insurers engage their members, delivering a validated and measurable ROI. Through the use of industry-leading Bluetooth activity trackers, we provide members a platform for activity tracking, nutrition and calorie monitoring, as well as BMI metrics. Custom features, targeted initiatives, gaming and social networking provide long-term engagement with our program. Walkingspree programs deliver more than 50 percent employee participation and year-over-year member retention. Walkingspree wellness programs are already in use by health insurers, insurance brokers, Fortune 1000 companies, and selected SMB clients. Walkingspree is based in San Antonio, Texas. For more information, visit http://www.walkingspree.com.