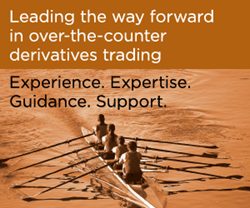 DerivativeEDGE has proved to be yet another Force Multiplier from Derivative Path in their role to support and enhance our Bank's efforts in providing rising interest rate protection to our customers.
San Francisco, CA (PRWEB) May 20, 2014
Derivative Path, Inc. is pleased to announce the introduction of its interest rate derivative pricing and portfolio management platform, DerivativeEDGE™. DerivativeEDGE gives institutional clients direct access to the types of pricing, derivative processing and tracking tools developed and used by the largest Swap Dealers and other major derivative participants, putting them on par with the best on Wall Street.
After eight months of design and development, Derivative Path's team of capital markets leaders has created a platform which empowers financial institutions and other institutional clients to manage their derivatives business with confidence. The primary goal of DerivativeEDGE is to help the treasury, lending and operations teams of financial institutions and other institutional clients become more efficient in originating, managing and servicing interest rate derivative transactions. Through the use of DerivativeEDGE, our clients are becoming more educated about the swap market and are better able to offer and process derivative transactions for their own balance sheet use and for use by their eligible commercial customers.
"DerivativeEDGE has proved to be yet another Force Multiplier from Derivative Path in their role to support and enhance our Bank's efforts in providing rising interest rate protection to our customers. The DerivativeEDGE platform provides the Bank with the modeling ability to easily price a variety of derivative alternatives specific to each client needs before, at, and after execution. " said Jon Lorberau, Treasurer, at Bank of the Cascades in Bend, OR. Jon, who has over 20 years' experience in trading large derivatives positions using a number of other trading platforms, has been using DerivativeEDGE for the last two months.
The state-of-the-art DerivativeEDGE platform has been designed to allow users to transparently structure, price and maintain interest rate derivatives as well as analyze individual cashflows, payments and mark-to-market values. This is performed within a framework designed to meet and exceed Dodd-Frank requirements around the execution of transactions with eligible commercial end users, data and document retention requirements, as well as best practice guidance. Administrators are able to manage user profiles including roles based permissions and workflows to ensure controls and separation of duties rules are enforced.
"I am very excited about the initial launch of our platform," said John Fleming, Derivative Path CTO. "Our team has designed and built a modern platform, with a keen focus on user experience. We set ourselves a lofty challenge — build an easy-to-use, one stop, feature-rich platform that provides transparent trade/portfolio information in a way that will help to educate our clients and increase the transparency around pricing and processing of derivatives. I believe we have exceeded that goal. We have lowered barriers to entry for market participants. Our solution eliminates the need for our clients to spend millions of dollars in software licenses and infrastructure costs. At the same time, the implementation period of DerivativeEDGE is remarkably shorter than currently available alternative systems, some of which require thousands of resource hours and significant internal technology support. Those headaches and costs, quite simply, have been removed."
"We couldn't have done it without a deep bench of senior talent representing risk management, technology, compliance, sales and trading," said Frank Purnell, Head of Product Management. "We've distilled decades of experience in trading platforms, quantitative analysis, risk management and operational efficiency into a robust, user-friendly system. Implemented through a Software-as-a-Service model and with live market data feeds, all that is required to start modeling, pricing, and managing trades is a user ID. On-boarding existing portfolios is straightforward and rapid. Whether a firm is managing its balance sheet hedging, or back-to-back customer swap program, DerivativeEDGE provides seamless front-to-back processing for their interest rate derivatives portfolio. This is just the beginning; we'll continue to leverage industry-leading technologies to continue to enhance best-in-class sales, operations, risk management, and compliance practices for our clients."
About Derivative Path Inc.
Derivative Path is a San Francisco Bay Area-based company that is approaching the over-the-counter derivative markets with a fresh, technology-driven services offering. The company provides a technology-led solution to assist financial institutions and commercial end-users in executing and managing their over-the-counter interest rate derivative transactions.
The company is led by industry veterans who have worked in the derivatives/capital markets business for some of the world's largest banks. The sales and compliance team has led derivative sales and compliance efforts for several major banks. They have assisted numerous financial institutions in creating derivatives hedging business opportunities, setting up back-to-back swap programs, leading day-to-day derivative compliance activities and working with respective capital markets and commercial lending groups.
The company's technology team has years of experience in leading the technology, trading and product development effort at some of the world's largest financial institutions. Derivative Path will be ensuring that key aspects of its clients' trading operations will be automated, and that the tasks necessary from a trade servicing standpoint will be accomplished by a rules and workflow based engine that can mitigate manual and/or spreadsheet-based errors. For more information about Derivative Path, visit http://www.derivativepath.com.
PR Contact:
Pradeep Bhatia, Co-Founder and Co-CEO, +1 415 992 8200, pbhatia(at)derivativepath(dot)com
Zack Nagelberg, Head of Business Development, +1 415 992 8200, znagelberg(at)derivativepath(dot)com
# # #