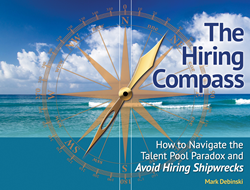 I suggest this book be read by and on top of every hiring managers' desk before they embark on a new hire process. - Chuck Langmead, President of Global Industrial Business at McCorming & Company Inc.
ELDERSBURG, Md. (PRWEB) May 20, 2014
Seasoned talent management expert and president of award-winning firm, Bluewater Advisory & Bluewater Search, Mark Debinski releases his first book, "The Hiring Compass," offering critical insight into search and selection methodology that increases employee retention and engagement.
Inspired by the countless Bluewater client organizations who have experienced the success of this search and selection methodology firsthand, "The Hiring Compass" provides effective tools to help hiring managers make better hiring decisions. In the book, Debinski analyzes the reasons behind poor hiring decisions; outlines the major organizational costs of a hiring mistake; identifies the top ten hiring mistakes; and offers guidance on how to consistently make good hiring decisions.
"I was compelled to write 'The Hiring Compass' to share some of the proven tools and methodology we use in search and selection," said Debinski. "Dozens of our clients have benefited with higher retention and engagement at all employment levels. It was only natural to want to share these tools, so organizations can implement this thought process on their own."
"'The Hiring Compass' is spot on and very much needed in business," said President of Global Industrial Business at McCormick & Company Inc., Chuck Langmead. "A quick read, but packed with common sense, yet often ignored practice that would raise the odds of finding successful matches in the recruitment process. I suggest this book be read by and on top of every hiring managers' desk before they embark on a new hire process."
"The Hiring Compass" offers clear and concise guidance for hiring managers and executives to develop and follow a strategic selection process that will optimize organizational engagement levels and increase chances of valuable and lasting hires. Debinski also explains a phenomena he refers to as the "Talent Pool Paradox," and how forward-thinking organizations can leverage this contradiction in their favor.
"Mark Debinski does a superb job in 'The Hiring Compass,' helping any executive who has ever wondered 'Why didn't I see that coming?' after a painfully bad hire," said CEO of Howard Bank, Mary Ann Scully. "If we all believe that the right people are any company's most valuable assets, this book is a must have to creating the dream team."
To purchase "The Hiring Compass," visit http://www.TheHiringCompass.com. The book is available in both hardcopy and all versions of digital format. For additional information about "The Hiring Compass," contact Kristi Frisch at 410-420-2001 or by email at Kristi.Frisch(at)FallstonGroup(dot)com.
About the Author
Mark Debinski is an accomplished leader and C-level executive. As founder of Bluewater Advisory and co-founder of Bluewater Search, Mark focuses all his efforts on helping organizations and individuals operate at their highest and best use. Mark and his team at Bluewater Search have developed a unique and award-winning methodology for search and selection, the results of which are extremely high employee engagement levels and unparalleled employee retention rates. Whether working with small management and executive teams or speaking to national groups, Mark enthusiastically shares why so many hires lead to misfires, and how to avoid hiring shipwrecks in the future.
About Bluewater Advisory
Specializing in talent management, team alignment, executive advisory, assessments and diagnostics, and business consulting, Bluewater Advisory infuses new energy into the people driving your organization. To reduce turnover, increase employee engagement and boost performance, seek out Bluewater's strategic talent management, leadership development and training programs, and coaching solutions. Bluewater's award-winning retained recruitment division, Bluewater Search, combines analytical assessments and tools with proprietary proactive search and selection methodology, resulting in unparalleled retention rates for Bluewater's clients.