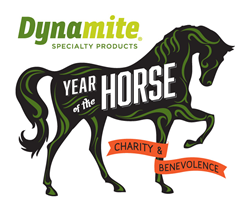 "People who buy our products are passionate about their animals and about making the world a better place," said Callie Novak, Dynamite's CEO.
Meridian, ID (PRWEB) May 22, 2014
Dynamite Specialty Products donated $7427 to RVR Horse Rescue in Riverview, Florida as part of their 2014 Year of the Horse Project. Dynamite's Year of the Horse Project was created as a way to give back to horse rescues celebrating the work that they do in the rescue and care of abandoned or abused horses. The tireless work of horse rescues directly ties into Dynamite's vision – to improve the lives of all creatures. The Year of the Horse funds are accumulate as a percentage of product sales as well as a cash donation matching program, event sponsorship, and product sponsorship for individual horses.
For the first quarter of the Year of the Horse Project, Dynamite donated 5% of all sales of their equine foundation supplement, TNT™ from February 1 through April 31. In addition, they also donated 3% of all sales of their proprietary, best-selling, prebiotic supplement, Dyna Pro® from March 20-27. Dynamite was also a Gold Level sponsor for RVR's Help-A-Horse Day event on April 26th. Additionally, a cash donation matching funds program exceeded the maximum match due to the generosity of their distributors and customers. "People who buy our products are passionate about their animals and about making the world a better place," said Callie Novak, Dynamite's CEO. "We attract people who are driven by projects that help animals, improve soil, save lives and make the world a better place."
In addition to the monetary contribution, Dynamite made a product donation to help out Destiny, a 7-year-old Palomino QH Mare. Destiny arrived at RVR with severe hoof issues due to extreme neglect. Dynamite donated a supplement package that included a specific hoof protocol to help Destiny in her recovery. Reports from RVR are that Destiny is "feeling great and has become quite the lover." Karen Pack, Marketing Director for RVR, states "I guess feeling better and knowing love has that effect on horses and all animals."
Dynamite started its Year of the Horse Project in early 2014 with a call for its distributors and customers to submit nominations for deserving horse rescues. The initial call for nominations generated over 110 entries. The number of nominations and the passion that was behind each nomination made the decision a difficult one. RVR Horse Rescue became the choice of the selection committee not only because of the number of nominations it received but also due to the rescue's alignment with Dynamite's own mission and vision.
RVR provides medical attention, nutrition, training, and a safe haven to forgotten horses. Rehabilitated horses are then, for a small adoption fee, placed in approved, loving homes. RVR works closely with the Hillsborough County Sheriff's Agriculture Department in Florida. They take action to save horses being sold for slaughter. RVR Horse Rescue also keeps track of all adopted horses to make sure their living conditions remain good for the rest of their lives. Through the experiences of their volunteers, RVR has quickly realized the impact they have, not only on the horses they rescue, but on the humans who help them. Their vision is to be able to use safe, rescued horses, and their stories, to help heal broken-hearted, sick, and disabled humans as well!
A family-owned company based near Boise, Idaho, Dynamite has been manufacturing and distributing nutritional supplements for all living creatures for 30 years. Their steadfast approach of innovation guided by nature, backed by science has earned them nationwide recognition and familiarity. All walks of life from humans to horses and the soil they graze upon can be supplemented by the wide array of Dynamite products. Dynamite has a long tradition of making charitable contributions.
Dynamite uses only natural ingredients, made in the United States for better quality control. Throughout its history, it has always looked at alternatives to animal byproducts, antibiotics, chemical preservatives, fumigants, artificial coloring and other additives.
Dynamite dog food, horse feed, vitamins and nutritional supplements, and other products are available through more than 4,000 independent distributors across the country.
Dynamite's Year of the Horse Project will run through the end of 2014. Second quarter Year of the Horse funds will be awarded to a new recipient, Strawberry Mountain Mustangs out of Roseburg, Oregon.
For more information on Dynamite visit http://www.DynamiteSpecialty.com or call their customer service team at 800-697-7434.