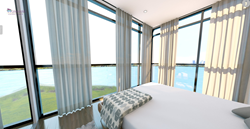 Upgraded fixtures, floor-to-ceiling windows with picturesque views of Lake Ontario, and the quality many have come to expect from LJM Developments
Grimsby, Ontario (PRWEB) May 16, 2014
Waterview Condominiums' Broker Event and Official Grand Opening provides the making for another LJM Development success. Mr. Liaquat Mian, CEO, offers this about the exciting new project in Grimsby, "a breathtaking water view, resort amenities, state-of-the-art fixtures, and cottage-like comfort; it is what most Canadians desire".
The development, expected to be the tallest building in Grimsby will be located at North Service Road and Oakes Access, and near the Newport Yacht Club and Fifty Point Marina. With a host of amenities nearby, a lake view and cutting edge architecture, attendees to the Official Grand Opening on May 3rd were thoroughly impressed. Most were greatly appreciative of the extra effort by LJM to provide 3D digital tours of suites to be offered.
With a location that provides a boutique lifestyle with notes of lakefront living and cottage life mixed with upscale luxury condominiums, Waterview Condominiums have easily become the address to have in Grimsby. With easy access to Highways 401, 403, 407 and the QEW not to mention the expected extension of the GO rail line into the area, Waterview is positioned to be convenient for GTA workers to enjoy a more relaxed lifestyle.
Surrounded by a vibrant community that offers amenities such as two Yacht Clubs, a new Highland Country Market grocery store in the direct vicinity, Grimsby Park and Beach; owners can enjoy natures idyllic setting in Grimsby from a well placed, designed and constructed condominium suite.
The most spectacular aspect of Waterview that differs from other projects in the area is LJM's ability to offer unparalleled conveniences direct to the door of its owners. With exclusive retail space, the best of commerce provides convenience to the owners including an Italian eatery, a massage therapist, a doctor's office, a coffee shop, and an all-day breakfast eatery allowing you to never leave the tranquility of a great home.
Individual units feature upgraded fixtures, floor-to-ceiling windows with picturesque views of Lake Ontario, and the quality many have come to expect from LJM Developments and their projects. With green initiatives like a piece de resistance of the tower, its luxurious outdoor terrace which will provide a private garden setting for yoga, relaxation, and outdoor cooking.
With the project close to 50% sold, before its ground-breaking ceremony slated for September, prospective buyers had better move fast. The limited parcel of land facing the Lake will only add to the exclusivity and profile of the development. Take a 3D virtual tour of the project by registering with Waterview Condominiums today.
About LJM Developments
LJM Developments is a recognized industry leader in real estate development in Ontario, Canada. The company has developed highly-acclaimed signature projects in the residential and commercial sectors that are a perfect synergy of world class architectural design and cutting-edge construction quality.
Features, amenities, outlets, and designs stipulated in this Press Release are subject to change.
For more information about Waterview Condominiums, please visit http://www.waterviewcondos.ca
####
If you would like more information about this topic or need to make further press inquiries, please contact LJM Developments at 289-245-1900 or e-mail: info(at)ljmdevelopments(dot)ca