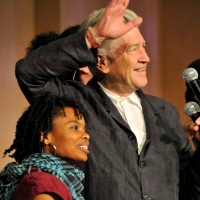 Ideas are like fish. If you want to catch little fish, you can stay in the shallow water. But if you want to catch the big fish, you've got to go deeper. – David Lynch
Fairfield, IA (PRWEB) May 17, 2014
The David Lynch MA in Film program at Maharishi University of Management announced a film competition for prospective MA students. Interested parties are invited to submit an original film up to ten minutes in length. Among other requirements, prospective MA students must hold a bachelor's degree, preferably in film, and must demonstrate excellent skills in film or video production. Deadline for submission is June 21, 2014. Four time Academy Award nominee David Lynch will personally view the top six submissions and select the winner to receive a full scholarship for the 2014-2015 school year. The David Lynch MA in Film is a one year program aimed at supporting talented film students in developing and completing a major film project within one academic year.
For more information, visit: http://filmschool.mum.edu/blog/win-a-full-scholarship-to-the-david-lynch-ma-in-film/.
To learn more about applying to the program, contact Eden West, David Lynch MA Program Administrator, at davidlynch.ma(at)mum(dot)edu or +1 442 444-0115.
Maharishi University of Management (MUM) in Fairfield, IA is a private university featuring Consciousness-Based℠ Education. The accredited traditional curriculum offers bachelor's, master's, and doctoral degrees in the arts, sciences, humanities, and business, but also integrates self-development programs. Innovative aspects include the Transcendental Meditation® program, one course at a time, and organic vegetarian meals. Visitors Weekends are held throughout the year. For more information, call the Admissions Office at 800-369-6480 or visit http://www.mum.edu.