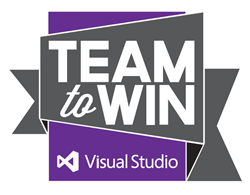 Daytona Beach, Florida (PRWEB) May 15, 2014
Microsoft has presented its third installment of the Visual Studio Team to Win Award to Action Express Racing following the team's world-class effort in the memorable Tequila Patron SportsCar Showcase at Long Beach in April. That podium finish earned the team a nomination and a fan vote saw Action Express earn the prize.
The third-place finish at Long Beach kept Action Express at the top of the IMSA United SportsCar Championship standings for the third race in a row. Drivers Christian Fittipaldi and Joao Barbosa combined for a strong run in the No. 5 Corvette Daytona Prototype, running in the top 3 for the majority of the race. It was a strong performance from both sides of the pit wall, as the No. 5 Corvette briefly took the lead after an exceptional pit stop allowed Barbosa to exit pit road in first place. Barbosa fought hard, but could not keep the lead, and finished third. Taking three podium finishes in three races is a testament to the work that the Action Express Racing team puts in both on and off the track.
Visual Studio, Microsoft's application development software, continues its involvement in motorsports after sponsoring the Grand-Am Rolex Sports Car Series event at Road Atlanta in 2013. Visual Studio offers unparalleled tools for developers working in a team environment. The "Team to Win" theme that reflects the software's collaborative development focus has found a great analogy in the tremendous teamwork required of world-class sports car racing. Action Express Racing demonstrated teamwork and collaboration throughout the Tequila Patron SportsCar Showcase at Long Beach and their fans came out in grand style to vote them the third Team to Win Award.
"The TUDOR United SportsCar Championship is an outstanding environment for teamwork and innovation," said Matt Nunn, Director, Developer Tools Product Marketing. "Watching teams compete at this level gives you an appreciation for the power of collaboration in high-stress, high-speed situations. Visual Studio is pleased to work with IMSA to recognize the fundamentals of teamwork that we know is key to any winning effort."
Microsoft's involvement includes a cash prize to be awarded to the leading vote getters following each event. The fourth set of nominees, chosen from the Continental Tire Monterey Grand Prix Powered by Mazda at Mazda Raceway Laguna Seca, demonstrated that spirit of teamwork on one of North America's most famous circuits.
The nominees are:
1) Extreme Speed Motorsports
2) Starworks Motorsport
3) Turner Motorsport
4) Risi Competizione
Fans can vote through 12:00 p.m. EDT Wednesday, May 28, 2014, at http://on.wsj.com/1gAvW3Z. The winner will be announced at the Chevrolet Sports Car Classic at Belle Isle. Details on the award and on each selected team can also be found at the website.
About Microsoft
Founded in 1975, Microsoft is the worldwide leader in software, services and solutions that help people and businesses realize their full potential.
About Microsoft Visual Studio
Microsoft Visual Studio 2013 is an integrated solution that enables individuals and development teams of any size to turn their ideas into exceptional, compelling applications. It enables all stakeholders involved in software delivery to take advantage of state-of-the-art tooling to create outstanding experiences that delight end users with a simplified development solution that enables quality through all the tasks and roles involved in a software project. For more information, please visit http://www.microsoft.com/visualstudio.
About IMSA
The International Motor Sports Association, LLC (IMSA) is the sanctioning body of the TUDOR United SportsCar Championship, the road-racing series resulting from the merger of the American Le Mans Series presented by Tequila Patrón and the GRAND-AM Rolex Sports Car Series. IMSA also sanctions two developmental series, the Continental Tire Sports Car Challenge and the Cooper Tires Prototype Lites Powered by Mazda, as well as four single-make series: Porsche GT3 Cup USA by Yokohama; Ultra 94 Porsche GT3 Cup Canada by Michelin; Ferrari Challenge North America; and Lamborghini Super Trofeo.
IMSA is the exclusive strategic partner in North America with the Automobile Club de l'Ouest (ACO) which operates the 24 Hours of Le Mans as a part of the FIA World Endurance Championship. The partnership enables selected TUDOR United SportsCar Championship competitors to earn automatic entries into the prestigious 24 Hours of Le Mans.