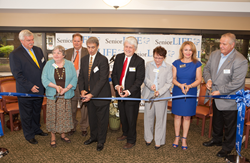 Bethlehem, PA (PRWEB) May 16, 2014
On Wednesday May 14th, about 100 people gathered to celebrate the grand opening of Senior LIFE Lehigh Valley. Speakers included state representatives, community leaders and local officials who expressed the need for health and supportive services for the elderly and thanked Senior LIFE for bringing these services to the Lehigh Valley.
Senior LIFE is a Program of All-Inclusive Care for the Elderly (PACE) called LIFE in Pennsylvania. The LIFE Program provides eligible seniors with a comprehensive all-inclusive package of medical and supportive services to allow them to live independently in their homes and communities.
The program is funded by Medicare and Medicaid. There is no cost for any services under the LIFE Program for those who qualify.
Senior LIFE is the largest LIFE provider in the state serving over 1,000 seniors and providing a wide array of coordinated health and personal care services to address physical, emotional and social needs of seniors both in the LIFE center and in their home. These services allow seniors to age in place and remain active in their communities.
The event speakers included Bonnie Rose, Deputy Secretary of the Office of Long-Term Living, State Representative and Chair of the House Aging and Older Adult Services Committee, Steve Samuelson, Tom Muller, Lehigh County Executive, Donna Zimmerman, Executive Director Lehigh County Area Agency on Aging, John Mahler, Administrator for the Northampton County Area Agency on Aging and Marta Gabriel, Regional Manager for U.S. Senator Pat Toomey. Guests also toured the Senior LIFE Center and enjoyed drinks, appetizers and live entertainment.
Senior LIFE is located at 2045 Westgate Drive in Bethlehem and serves both Lehigh and Northampton Counties. For more information visit http://www.seniorlifelehighvalley.com or call (610) 954-5433.