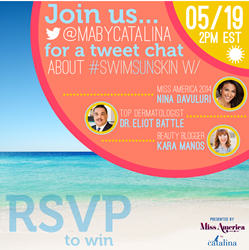 "Our goal is to promote healthy skin care practices to the public. Summer is not just about the look of skin; it's about the health of the skin, particularly when lounging out in the sun all day. " says Zvi Ben Haim, President of In Mocean Group
New York, NY (PRWEB) May 16, 2014
Leading swimsuit brand and official swimsuit sponsor of the Miss America Competition, [Catalina Swimwear, will host a Tweet Chat on May 19, 2pm EST for Skin Cancer Awareness Month in May. A distinguished panel, including Miss America 2014 Nina Davuluri, renowned dermatologist, Dr. Eliot Battle and prominent beauty blogger, Kara Manos, will moderate the chat.
"Our goal is to promote healthy skin care practices to the public. Summer is not just about the look of skin; it's about the health of the skin, particularly when lounging out in the sun all day. We know that the awareness of skin cancer prevention is always a great topic leading into the summer months," says Zvi Ben Haim, President of In Mocean Group, parent company of Catalina Swimwear. "We hope to utilize our partnership with Miss America to help foster our beliefs that skin care is essential and educate the public on the special care that should be taken during warmer months."
"We know that daily sunscreen use by adults under age 55 can reduce skin aging but it's more than aging, it is the health of your skin that is important to me," says Davuluri, from Syracuse, NY. "There are multiple symptoms of skin cancer that I find a lot of people are not aware of which could extend far greater than an irregularity causing real pain and discomfort. I want to help raise the awareness in any way I can especially by debunking the myth that cancer only affects people with lighter pigmented skin, which numerous studies have proven is not true."
Nationally and internationally renowned dermatologist and the CEO and co-founder of Cultura MedSpa in Washington, DC, Dr. Eliot Battle, who has been featured in leading magazines and television programs, brings the reputable medical insights necessary for this conversation. "Without proper skin care, the results could be tremendous," says Dr. Battle. He continues, "Currently, 1 in 5 Americans develop skin cancer in their lifetime. Those statistics are too high in my mind and don't need to be so. Reaching a wide audience and being able to answer questions in regards to melanoma and skin cancer prevention is an honor and I look forward to this chat."
Knowing that many women are constantly looking for beauty products that protect the skin while simultaneously making them appear flawless, beauty blogger, Kara Manos of The Politics of Pretty, has also been invited to participate.
Interested parties will be able to RSVP with or without the questions they would like to have answered.
The Tweet Chat will be hosted on @MAbyCatalina trending with hashtag; #SwimSunSkin on Monday, May 19, 2014 at 2pm EST and last for one hour. Catalina Swimwear Summer Kit prizes will be given away randomly leading up to the event for those who RSVP and a few additional "door" prizes will be given during the chat to those participating in the event.
The 2014 Miss America by Catalina collection launches this month exclusively at Walmart, a longtime retail partner of Catalina, at select Walmart locations and Walmart.com. Inspired by the collection featured on 2014 Miss America Telecast, the key styles in the Miss America by Catalina collection for Walmart will feature a wider range of silhouettes, including tankinis and two-pieces, appealing to a broad consumer base.
If you would like to participate in the discussion or have questions, please RSVP HERE.
2014 Miss America Nina Davuluri Bio
Dr. Eliot Battle Bio
http:// Kara Manos Bio
About In Mocean Group
New York based In Mocean Group, LLC. ("IMG") is one of the largest privately owned swim manufacturers in the world, with domestic and international offices. Catalina is part of IMG's portfolio of iconic brand names including Anne Cole and Cole of California. In addition to its owned brands, IMG designs and produces private label swimwear for misses, junior and girls. As a category leader in design and manufacturing, In Mocean Group maintains a team of top industry designers, graphic artists, merchandisers and executive sales teams. IMG has been the recipient of numerous supplier awards from various retailers. In Mocean Group's swimwear is available at mass retail, better department and specialty swim stores throughout the U.S. and internationally. For more information, visit http://www.inmocean.net or contact nfo@inmocean.net
About the Miss America Organization
The Miss America Organization is one of the nation's leading achievement programs and the world's largest provider of scholarship assistance for young women. The Miss America Foundation, Inc., a 501(c)(3) organization provides academic, community service and other scholarships to women between the ages of 17 and 24. Last year, the Miss America Foundation, together with the Miss America Organization and its state and local pageant organizations made available more than $45 million in total scholarship assistance. The Miss America Foundation, Inc. is a duly recognized by the Internal Revenue Service as a 501(c)(3) organization. For more information about the Miss America Organization, please visit http://www.missamerica.org.